Lance Armstrong resigns from board of Livestrong charity
Last updated on .From the section Cycling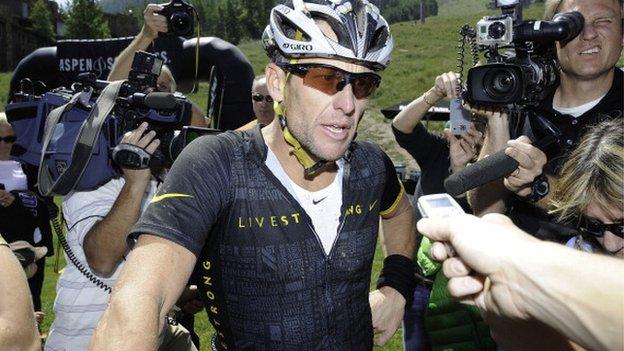 Lance Armstrong has resigned as a board member of the cancer support charity Livestrong which he founded in 1997.
The 41-year-old stepped down, according to chairman Jeff Garvey, to "spare the organisation any negative effects surrounding his cycling career".
Cycling's governing body last month accepted an investigation's findings of widespread doping in the sport.
As a result, Armstrong was stripped of his seven Tour de France titles and banned from cycling for life.
"We are deeply grateful to Lance for creating a cause that has served millions of cancer survivors and their families," added Garvey in a statement.
"His devotion to serving survivors is unparalleled and for 15 years, he committed himself to that cause with all his heart on behalf of the Livestrong Foundation."
Armstrong had previously stepped down as chairman of the charity.
He received a life ban from the United States Anti-Doping Agency (Usada) for what the organisation called "the most sophisticated, professionalised and successful doping programme that sport has ever seen".
The American overcame testicular cancer to return to professional cycling before winning the Tour de France for a record seven times in successive years from 1999 to 2005.
He has always denied taking performance-enhancing drugs but chose not to fight Usada's charges against him.