Laura Trott to use World Cup as warm-up for World Championships
Last updated on .From the section Cycling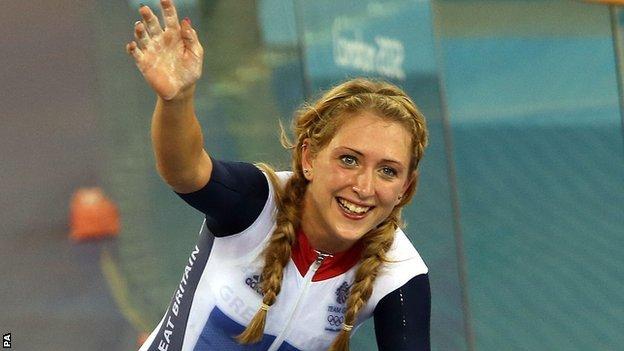 Britain's reigning world and Olympic champion Laura Trott will use the Track World Cup in Glasgow as a warm-up for the 2013 World Championships in Minsk.
Trott, who won the omnium and team pursuit at the 2012 World Championships in Melbourne, replicated that at London and rides in the same events this week.
However, Trott, 20, told BBC Sport: "This is not a target. This is go and enjoy a home crowd and atmosphere.
"The main target is to win the worlds again, retain the two world titles."
The World Championships will be held in the Belarusian capital Minsk in February next year and once they are over Trott will switch her focus to the 2014 Commonwealth Games, which will be held in the Sir Chris Hoy Velodrome, home to this weekend's action.
Trott won world and Olympic team pursuit gold with Dani King and Joanna Rowsell and the trio have set six world records in their last six races.
However, Rowsell has pulled out of the World Cup meet through illness and British Cycling has drafted in 18-year-old Wales star Elinor Barker.
Barker, who has the world junior road time-trial and European junior individual pursuit titles on her CV, is unlikely to be overawed, having also won team pursuit silver for Wales in the first World Cup event in Colombia in October.
And Trott, who will race as 'man one' in Rowsell's absence, says she has done all she can to make Barker comfortable coming into the hugely successful and established team.
"I was in the same position as her two years ago," said Trott, who helped Wendy Houvenhagel and King win the 2011 team pursuit world title.
"I knew how she was going to feel. I know how I felt and I didn't like it, so I just wanted her to be happy.
"We've been incorporating her in absolutely everything and I'm rooming with her."
Trott says she will be "having fun and learning" in her other event, the six-discipline omnium.
"It's about enjoying bike racing and learning from what I didn't do at the Games.
"Although I won it wasn't the perfect scenario because I went into the last race way behind where I wanted to be.
"I want to do new things in the group races because they are my letdown events, just try things and see what happens.
"To do new things here is only going to help me at the worlds."