Dave Brailsford ready to lead British Cycling at Rio Olympics
Last updated on .From the section Cycling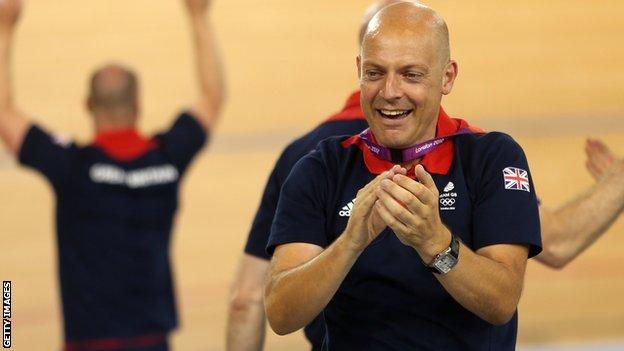 Dave Brailsford, the mastermind behind British cycling dominance at the last two Olympic Games, says he will lead the cycling team at the 2016 Olympics.
The 48-year-old, who is British Cycling's performance director and also team principal for Team Sky, led GB to eight gold medals at London 2012.
There had been suggestions Brailsford might step back from British Cycling and focus on the road with Team Sky.
"I'm not sure that I was ever going to let go and walk away," said Brailsford.
He has ignored approaches from the worlds of sport and business for his services, but said the Olympic management structure may need to be altered so he can walk away seamlessly if he chooses to.
"In my mind I like to think that there was a safety valve where you can just go 'OK, let's look at where we are going'," he said.
"We might structure it slightly differently, we might think about longer-term succession planning.
"I'd like to think we're building something which is sustainable; coming up to Rio if I just disappeared off sideways nobody would really notice and it would just carry on."
But the performance director admitted he would only walk away if he lost the desire needed for the role.
"If I wake up and I'm not motivated, I'm not excited by it, I will step aside, because somebody else should be doing it," he added.