Greg LeMond joins Change Cycling Now to clean up the sport

By Matt Slater
BBC sports news reporter
Last updated on .From the section Cycling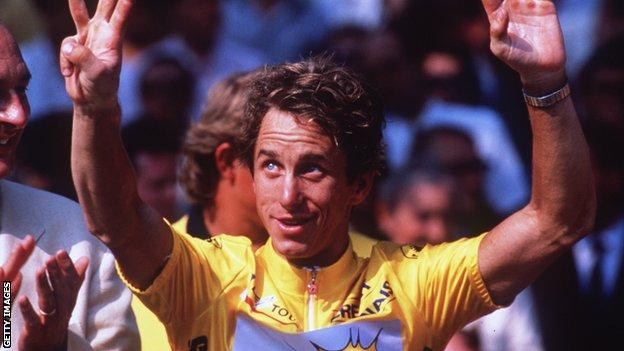 Three-time Tour de France champion Greg LeMond has joined a pressure group that is demanding a radical reform of the sport's approach to anti-doping.
Change Cycling Now has been set up by a cycling sponsor, former riders, journalists and anti-doping experts.
The most recent, and damaging, doping case involved seven-time Tour winner Lance Armstrong.
"The Lance Armstrong affair has to be a watershed moment for professional cycling," said LeMond.
"There is still an opportunity to ensure cycling presents itself as a genuine world leader in the elimination of doping in sport.
"But to do that requires a determination to force change and I am delighted to be part of a group that is full of people who are committed for the cause."
The involvement of LeMond, who voiced his suspicions about Armstrong long before he was stripped of his seven Tour de France titles by the UCI, is a coup for CCN as he is one of a select group of recent Tour champions to be untarnished by allegations of drug use.
The 51-year-old Californian has been increasingly outspoken in recent years about the UCI's failure to address the culture of doping that has so badly damaged cycling's credibility, and last month he called for UCI president Pat McQuaid to resign.
LeMond's three Tour victories - 1986, 1989 and 1990 - arguably broke cycling outside its traditional European heartlands, and they certainly had a huge impact in North America.
Some experts have even suggested Armstrong's rise to domination of the sport a decade later would not have been possible without LeMond's trailblazing example.
With Armstrong now stripped of his titles, LeMond is once more the only American to win cycling's greatest race.
CCN meets for the first time in London this weekend, when LeMond will be joined by the group's co-ordinator Jaimie Fuller, who is chief executive of sports clothing firm SKINS, Australian blood-doping expert Dr Michael Ashenden, and Emma O'Reilly, Armstrong's former masseuse at his US Postal team and early whistle-blower on his cheating.
Other leading names to have added their support to CCN include two-time world champion Gianni Bugno and the boss of the Garmin-Sharp team Jonathan Vaughters, another former colleague of Armstrong's at US Postal.
"LeMond's involvement should send the clearest message yet that we are a serious group with serious intentions and genuine motives," said Fuller, whose firm is suing the UCI for damage to its brand caused by the Armstrong scandal.
"But the sheer fact all these people are prepared to give up their time reflects both their passion and desire to see cycling achieve the best outcome."