Marianne Vos: Is she the world's greatest cyclist?
Last updated on .From the section Cycling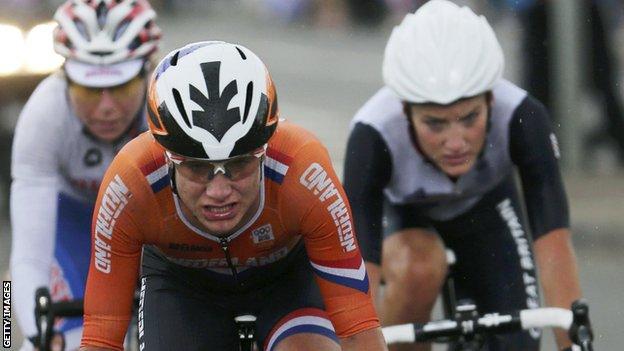 If there was one moment during the London Olympics which betrayed the lie that female sporting endeavour is necessarily less compelling than that of men, it was Great Britain's Lizzie Armitstead and Marianne Vos of the Netherlands Battle Royale on The Mall.
Two spectral shapes appearing through a thick curtain of rain, tossing violently from side to side. Sinews strained, teeth bared, no quarter given. Crowd losing control, Vos breaking British hearts by pipping Armitstead on the line.
A day earlier, viewers were baffled by the goings on in the men's equivalent, which they were told home favourite Mark Cavendish was supposed to win, not finish 29th in.
Those who knew a bit about cycling were aware Cavendish was never nailed on for victory, which made the result of a tactical race only slightly less disappointing. It didn't help that it was won by a former drug cheat.
"It was an epic and heroic race in London," says Dutch legend Vos, who faces Armitstead again in Manchester on Saturday, this time on the track in the second round of cycling's innovative Revolution Series.
"The pressure was really on because I wanted that gold medal so badly and my country expected me to win. But it was better than I could have dreamed of: an open race, with a breakaway and a chasing peloton; the crowds, the rain, battling against a rider chasing her country's first medal in her home Games.
"We showed how beautiful cycling can be if you race clean and race with passion. We don't have that big platform every year and you have to take the opportunity when you have it. I'm really happy people were able to see that."
Vos's use of the word "beautiful" is deliberate, for the image of men's cycling in the aftermath of the Lance Armstrong affair is as ugly as a king of the mountain's backside.
But while you might expect Vos to be angry with the boys for letting her sport down, she believes the very public battering men's cycling has taken could have residual benefits for the girls.
"Of course I'm not happy with where the sport is now but the women can help show the whole of cycling a different sport to the world," says the 25-year-old.
"The last few years the UCI (cycling's governing body) wasn't really interested in putting any effort into women's cycling. But men's cycling is having a hard time while women's cycling is running smoothly. So now the UCI can do a lot.
"The traditional view of cycling as a men's sport is a hard thing to change but now it is the moment. The UCI can help us with asking the media to give us more coverage, the organisers of men's races to put on more women's races and the biggest men's teams to add women's squads."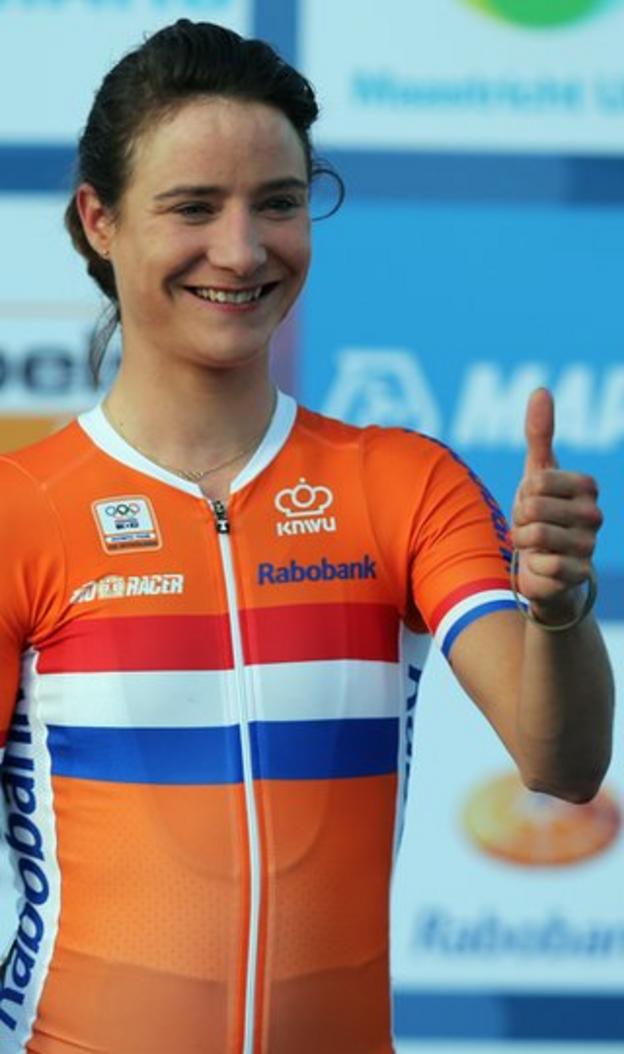 In Vos, the UCI has a ready-made poster girl. Perhaps the most versatile sportsperson, male or female, in the world, Vos is a two-time Olympic champion - once on the track, once on the road - a two-time world champion on the track, a two-time world champion on the road, a two-time winner of the Giro d'Italia Femminile and a five-time world champion in cyclo-cross.
Telling, therefore, that they can't find a place for her in the Cycling Hall of Fame, which is "dedicated to preserving the history of cycling's greatest races and the riders who rode them".
If you happen to be a bloke.
Armitstead and British team-mate Emma Pooley are vocal about the inequality in their sport, with Pooley threatening to retire over the yawning disparity in prize money, sponsorship and media interest between men and women's cycling. Bradley Wiggins labelled women cyclists "the forgotten ones".
The UCI is taking steps to reduce the gap, promising to bring women's track cycling events into line with the men's programme and create a new tier of "hors categorie" road races for elite riders.
And Vos is cheerfully optimistic, despite Rabobank ending its sponsorship of professional cycling in the wake of Lance-gate and potentially leaving her without a team to ride for from 2014.
"I don't feel like a victim of sexism, we are working on that and it is getting better," says Vos. "I want to be motivational and inspirational for everybody, my big aim is more women on bicycles.
"We're at the level where we take ourselves seriously and the next step is that the world takes us seriously as well."
When I ask Vos if she is envious of the profile of women tennis players and their subsequent earning potential, she replies: "I'm not in cycling for the money, I don't want to be rich, although I'm really happy I can earn money in cycling now.
"I'm kind of well-known in Holland, which is nice. But in Holland we're down to earth, there are no paparazzi in my garden and no autograph hunters at the door. We have Strictly Come Dancing but I've not been asked. Maybe because I can't dance, but also because I'm still an athlete."
That's bad news for women on bicycles, including female mountain bikers. "I've fulfilled my biggest dreams, where do I get my motivation from now?" says Vos. "So after London, I got on the mountain bike. If I only did road racing, I don't know if I could continue for more than a few years."
Women BMXers, however, can sleep easy. "It's not really something for me, I like to keep my wheels on the ground," she says. "And if I do something, I want to do it well." Usually the words of a specialist, not a multi-disciplinarian.
But this might not just be the greatest sportswoman you've vaguely heard of; this might just be the greatest sportswoman full stop.
So tune in for Saturday's race in Manchester or get on your bike and turn up. Perhaps you will discover what those who witnessed Vos v Armitstead part one already knew: that women's sport can be every bit as compelling as men's. And that it's time they received their due.