Guernsey's 2013 Island Games cycling squad are 'team to beat'
Last updated on .From the section Cycling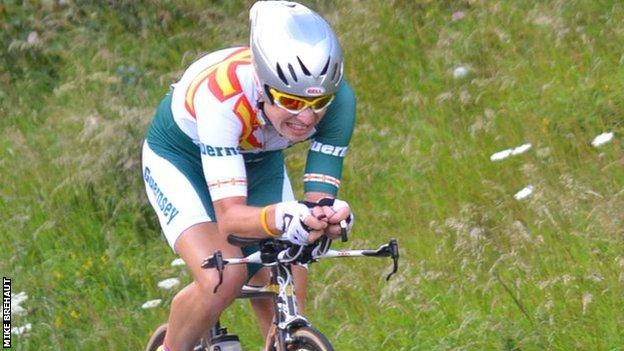 Guernsey Velo Club president Gary Wallbridge says the island's cycling team for next summer's Island Games will be the strongest in Bermuda.
The team, who include professionals Tobyn Horton and James McLaughlin, are expected to improve on the 20 medals in the 2011 Games in the Isle of Wight.
"We know we'll be the team to beat. We'll be the target for everyone," he told BBC Radio Guernsey.
"I believe they're all a little bit up on last time round."
Last year Guernsey returned from the Isle of Wight with six gold, 10 silver and four bronze medals, six ahead of their nearest rivals the Isle of Man.
The bulk of the squad from 2011 are competing again, with Rob Smart returning along with his entire mountain bike gold-medal winning team.
Veteran Ann Bowditch, who won team gold in the women's criterium, is also back along with team-mate Karina Bowie.
"We're fortunate they've managed to stay together," Wallbridge said.
"We truly believe a little bit more experience in the legs and a couple more years training, we're actually sending a stronger squad.
"Everyone understands they have to raise their games to meet that challenge and certainly we're on track."
Guernsey cycling team for 2013 Island Games
Men's road team:Tobyn Horton, James McLaughlin, Matt Osborn, Josh Gosselin, Aaron Bailey. Reserves Phil Touzeau and Alex Wilson
Men's mountain bike team: Rob Smart, James Roe, Andy Colver, Mike Serafin, Danny Shaw. Reserves Gary Robert and Geoff Gibson
Women's road team: Ann Bowditch, Karina Bowie, Marina Bleasdale. Reserve Bethan Haines
Women's mountain bike team: Charlotte Le Lievre