Greg LeMond willing to run for cycling presidency
Last updated on .From the section Cycling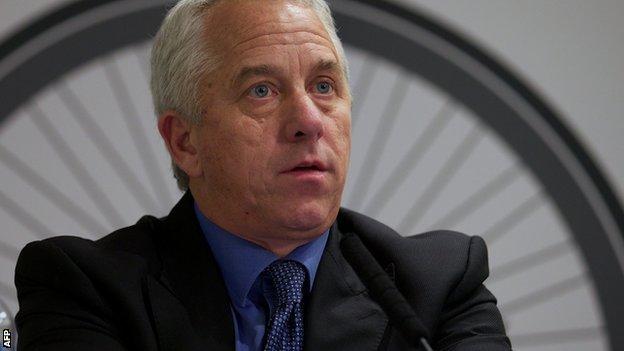 Former Tour de France winner Greg LeMond is willing to run for the International Cycling Union presidency with the aim of making the sport clean.
The three-time Tour winner has also joined pressure group Change Cycling Now (CCN), which is demanding a radical reform of the sport.
"It is now or never to act," he said.
CCN has criticised the UCI over the Lance Armstrong scandal, which resulted in the American being banned for life and stripped of seven Tour de France titles after being accused of "systematic doping".
Lemond believes the earthquake caused by the Armstrong case has given cycling the perfect opportunity to clean up the sport.
He said: "The history has tainted and handicapped so many riders.
"That's our goal. We want to restore some credibility for the riders.
"There are ways we could assure all the public these guys are clean."
He hopes working as part of CCN he can rid cycling of its association with drugs cheats and although he would be a reluctant candidate, the American is willing to take over as president of the UCI.
"I'm ready. I was asked and I accepted. If we want to restore public confidence and sponsors, we must act quickly and decisively, otherwise cycling will die.
"Riders do not understand that if we continue like this there will soon be no money in cycling."
LeMond has been critical of McQuaid and predecessor Hein Verbruggen, publishing an open letter on Facebook in October.
"If Pat McQuaid really loves cycling, as he claims, he would have resigned," LeMond wrote.
Following the decision to strip Armstrong of his titles, LeMond is once more the only American to have won the Tour.