Greg LeMond ready to help cycling's post-Armstrong clean-up

By Matt Slater
BBC sports news reporter
Last updated on .From the section Cycling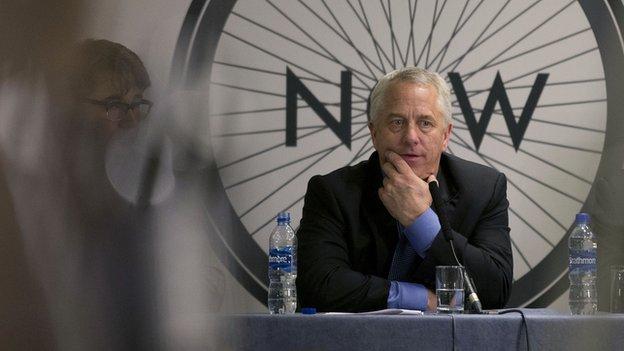 Imagine you are the first person from your neck of the woods to be good at something. Not just good, but great. It would be nice, wouldn't it?
You would be forever marked out as special, out of the ordinary, a pioneer.
Imagine then what it would feel like if somebody else from your neighbourhood came along and did it better.
You would feel a little less special, wouldn't you? Particularly if the guy who had surpassed your achievements then accused you of being jealous.
Three-time Tour de France champion Greg LeMond does not need to imagine because he knows what it feels like.
The "guy" is Lance Armstrong. Armstrong: the man who had indirectly brought LeMond to London, where we met on Monday.
What I wanted to know was what it felt like now that, a decade later, the man who had eclipsed him had been revealed as a fraud, a bully, a cheat and a liar.
"Not as good as it should," said LeMond, with a weariness that could not be blamed on jet-lag. "I would much rather see an American seven-time Tour de France winner there too, because I had a commercial interest in seeing that through my bike company.
"It would have been good for me to see him as a champion, but it wasn't a true story and this has been a huge blow for cycling."
The bike company in question was LeMond Racing Cycles, a range LeMond developed and licensed to one of the largest manufacturers in the world, Trek.
Trek was not just any manufacturer. It also supplied Armstrong with his bikes, sponsored him and even gave him a stake in the business. While Armstrong got rich, LeMond got litigation after voicing his concerns about Armstrong's methods.
The relationship between LeMond and Trek formally ended in 2010 but it had been on the rocks since 2001, when LeMond first raised the issue.
But now Armstrong has been revealed as perhaps the biggest fraud in sporting history and been dropped by numerous sponsors, among them Trek, LeMond is once again the only American to have won Le Tour.
"Do I feel vindicated? When you go through as much as I did, it is hard to describe. I literally lost so much and the stress on my family was huge," the 51-year-old said.
"I was in dispute with Trek, but there was a lot of interaction between me and Armstrong in other areas. It almost became like he was stalking me. That stress can kill you.
"I had so many hopes that maybe I could have that stress and him out of my life, but I didn't think he'd ever fall. When it happened…"
He did not need to finish the thought. He is not the only one who assumed Armstrong would never be toppled.
LeMond was in London for two days of talks under the Change Cycling Now (CCN) banner.
Set up as a response to the Armstrong scandal, the first gathering of this eclectic group resulted in a manifesto for reform entitled the "charter of the willing", with a reluctant LeMond nudged into the leadership role.
It is not a position the unassuming Californian is comfortable with, or perhaps even cut out for, but it was the most sensible option for a group long on noble aims but short on clout.
CCN's band of anti-dopers, bloggers, businessmen, ex-riders and journalists are fed up with the apparent failings of the International Cycling Union (UCI), the sport's governing body.
According to the United States Anti-Doping Agency's landmark report into Armstrong's epic cheating, published in October, the UCI did not just fail to catch Armstrong, but the report seriously called into question the UCI's actions over the period and whether their anti-doping procedures enabled him to get away with it.
The Swiss-based body denies this, but cycling's roll of doping dishonour is damning enough. The incompetence charge sticks.
LeMond had already called for the resignations of UCI president Pat McQuaid and honorary president Hein Verbruggen, McQuaid's predecessor in the top job, so it was no surprise to see that demand appear in CCN's "road map for the future direction of competitive cycling".
What would be surprising is if McQuaid and Verbruggen complied. But let's imagine they did and cycling was looking for a caretaker manager.
That temporary custodian could then implement CCN's plan for a "Truth and Reconciliation Commission", an investigation of the UCI during the Armstrong era, and push forward with the creation of an independent body to run the sport's anti-doping regime.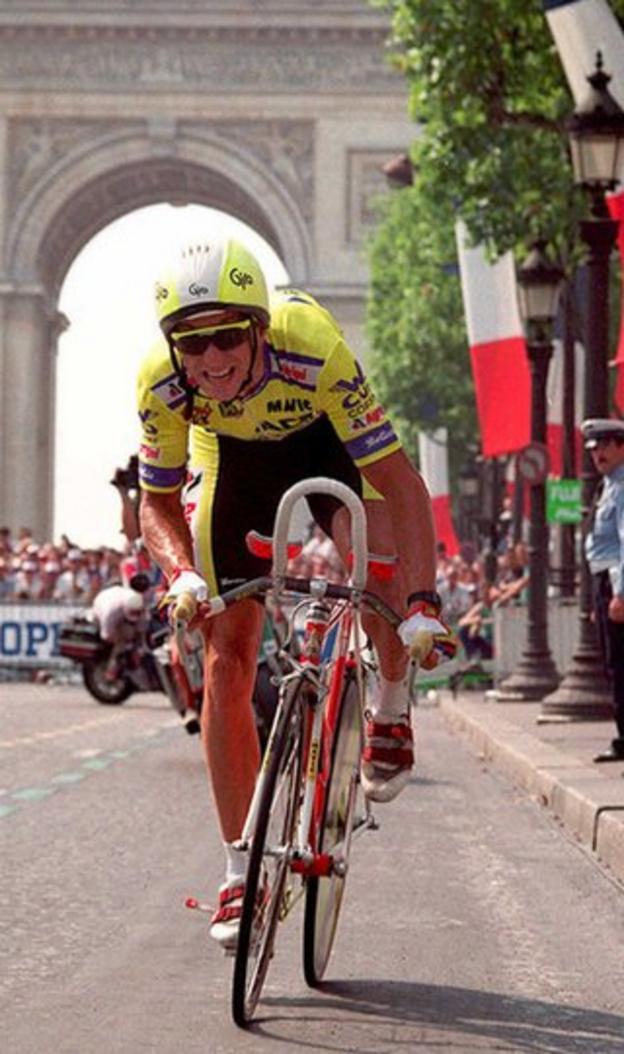 "I was cornered and forced into saying yes, I'd do it, if there was nobody else," LeMond said, with palpable embarrassment.
"The goal of the group is change and there are people out there who would make great presidents of the UCI. I'm not certain I would, but I would be willing to do it temporarily.
"I'd prefer to be part of the group that looks at how you can return transparency and credibility to the sport, but if that requires an interim position, well, I would love to be part of the process."
In truth, the American is unlikely to become president of the UCI, temporarily or otherwise. McQuaid shows no signs of stepping down voluntarily, while LeMond has no real powerbase and only limited contact with today's riders.
What LeMond has in buckets is authenticity. Unlike Armstrong, he is a real all-American hero. LeMond did it clean.
Blessed with a remarkable engine, the "LeMonster" could climb, race, time-trial, and do it all over again the following day. He was a phenomenon and is unlucky to have won only three Tour titles.
Already a world road race champion, he came third in his Tour debut in 1984, despite riding in support of victorious Frenchman Laurent Fignon.
He then repeated the "super domestique" role in 1985 for another local hero, Bernard Hinault. LeMond came second that year, giving up a good chance at the yellow jersey to allow Hinault his fifth Tour victory.
The following year was supposed to be payback time but what ensued was a civil war that made the Bradley Wiggins-Chris Froome rivalry look like a squabble over who was in charge of tunes on the Team Sky bus.
LeMond triumphed in one of the greatest Tours of all time, only for his brother-in-law to put 60 shotgun pellets into his back and side in a freakish hunting accident that not only wiped out his next two seasons, but almost killed him.
He returned in 1989 to beat Fignon in a blistering final time-trial on the Champs-Elysees. His average speed that day has only been bettered twice in Tour history, while his overall winning margin of eight seconds is the race's narrowest. He would add a second world title that year and a third Tour victory in 1990.
You could argue that by reclaiming his rightful place at cycling's top table, certainly as the most senior non-European, LeMond is already "part of the process" in terms of the example he has set.
In the same way he would not let Hinault get away with a broken promise in 1986, be beaten by his injuries in 1987-88, or be daunted by Fignon's 50-second lead going into the last 25km in 1989, LeMond is still there, post-Armstrong, fighting for his sport.
The reality is that cycling is changing now and LeMond should feel vindicated for that, if nothing else.