Sir Bradley Wiggins's memorable 2012 in his own words
Last updated on .From the section Cycling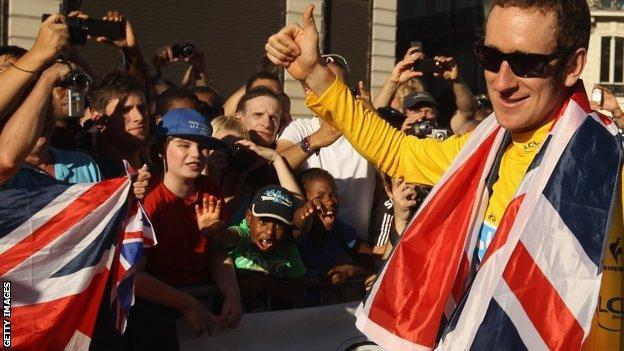 Bradley Wiggins acknowledged that winning the 2012 BBC Sports Personality of the Year award was the perfect end to a perfect year, before quipping: "There's only the knighthood to come, isn't there, really?"
Whether the Great Britain cyclist already knew at that point he was to become Sir Bradley Wiggins in the Queen's New Year Honours is unclear, but what is certain is that he has had an astounding 2012.
The first British winner of the Tour de France later became the most decorated Olympian to come from these shores with victory in the time trial at London 2012 - as well as winning three other prestigious stage races.
"I left home on 22 June and nobody knew who I was," he said at the end of the summer. "And then I came back to this overwhelming adulation everywhere I go. It is fantastic, brilliant, it really is - but I wasn't quite expecting the reaction."
Never short of a good quote, here is a look back at Wiggins's year in his own words.
January
Wiggins outlines Team Sky's lofty ambitions for 2012:
"We have a fantastic-looking squad for 2012 and I think we are in great shape to build on our successes of last year. With Mark Cavendish joining the team we are ready to target sprints and GC [general classification - overall stage race wins] in the same race and that is hugely exciting. There is nothing we like more than someone saying it can't be done!"
February
The season starts well with Wiggins finishing third in his first stage race of the season, the five-day Volta ao Algarve in Portugal:
"It obviously went better than we all anticipated and it was great to start the season off that way, not only individually but as a team too - I think the way we rode together made us the dominant force."
March
Wiggins gives an indication of his form with a first win of the season in the prestigious Paris-Nice race in France:
"To follow in Tom Simpson's footsteps by becoming the second British rider to win it is something special. It's a massive thing - as was the Dauphine [in 2011] - and to have both those on my palmares [list of achievements] is a massive honour.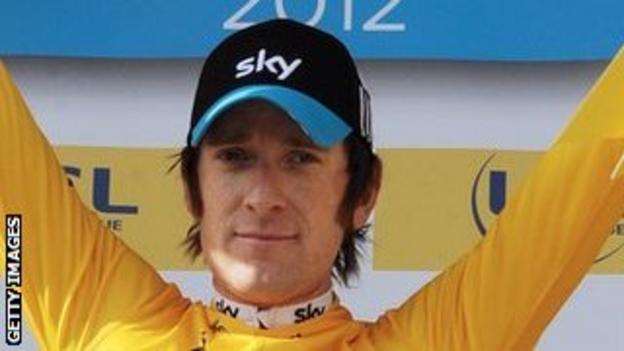 "They are both up there and behind the Tour de France they are the two biggest races in France.
"When I was a kid reading the magazines, you'd see pictures of [Miguel] Indurain wrapped up in all his clothing with snow on the side of the roads, or [Bernard] Hinault and stages getting cancelled.
"We didn't have the internet then, so that was the only way of seeing these things. Cycling wasn't on TV in the UK either, so that was my first introduction to races like this and what they meant."
April
After winning the final stage time trial to become the first British winner of the Tour de Romandie in Switzerland, despite dropping his chain at the bottom of the climb to the summit finish at Crans-Montana:
"It was a true test of a GC rider; it had a bit of everything in it plus a mechanical for myself.
"I'm pleased with the way I handled that moment because a few years ago I might have thrown my toys out of the pram and chucked my bike down the ravine. It was a good test for the bigger races coming up and I'm delighted."
May
The build-up to the big race continues on the Team Sky website:
"We're getting close now. It's all looking really good at the moment and we're ticking all the boxes.
"I think the performances speak for themselves. I've got an incredible coaching team behind me now and we've really found the right balance. In everything - my home life, the way I train now, the amount of effort I put into what I do and my professionalism on the bike. That's becoming really consistent now.
"As a team we are performing consistently week in week out now which is the main thing. Without a strong team you are nothing."
June
After winning the Criterium du Dauphine, a road race in France, for the second straight year:
"It's a big win but I wouldn't say I'm favourite for the Tour de France. This is all a road to winning the Tour hopefully, that's the goal. But at the same time along the way I have to stop and think 'hang on a minute, I've just won Paris-Nice and Romandie and the Dauphine again'.
"I've just won the Dauphine for the second time: there are not many riders who have done that. You're adding your name to a very special list. You have to take that in, otherwise they're meaningless."
On final preparations for the Tour de France:
"Five and a half hours [training] as part of the tapering - that seems mind-boggling to a lot of people. But that's our daily life. Actually at this point - two weeks before the Tour - it hardly skims the surface. It's that sort of work, day by day, month by month, year after year after year, which has got us to this level where we're in contention to win the Tour de France."
July - Tour de France
On wearing the race leader's yellow jersey for the first time:
"It sounds corny but this is something I've dreamt of since I was a child - sat on the home trainer in Kilburn watching my hero Miguel Indurain do it. Those dreams have come true now and I'm sat here at the top of a mountain in yellow. It's phenomenal. It's fantastic - [Chris] Froome's taken the stage and is King of the Mountains, and I'm in yellow, so it was an incredible day."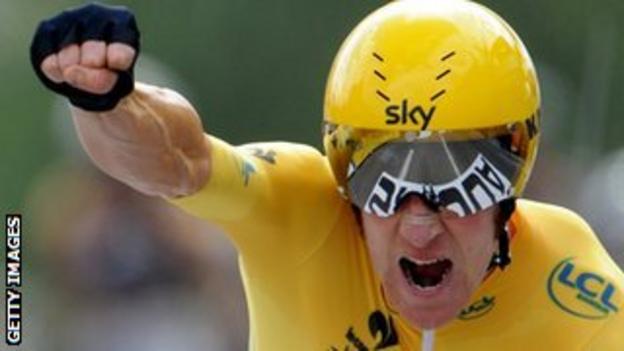 After tacks were thrown onto the road by race saboteurs, causing numerous punctures, particularly to rival Cadel Evans, Wiggins, as race leader called a halt to racing:
"No-one wants to see something like that have an impact on the race. As a group the thing to do was to wait. I wouldn't want to benefit from something like that. I thought the best thing to do is to wait.
"If you can't gain times on the climbs, then you don't do it when someone's punctured - not even when it's an ordinary puncture."
After helping Team Sky team-mate Mark Cavendish win the final stage on the Champs-Elysees for a fourth successive year:
"Every lap of the Champs-Elysees was goose-pimple stuff. We had a job to do with Mark and for him to finish it off like that, well, it couldn't get any better."
To the thousands of British fans lining the Champs Elysees after becoming the first Briton to win the Tour de France:
"We're just going to draw the raffle numbers now! Thanks for the amazing support the last three weeks. I really appreciate it. It's been a magical couple of weeks. Some dreams do come true. My old mother over there, her son's just won the Tour de France. Thank you everyone. Cheers. Have a safe journey home and don't get too drunk!"
On future plans:
"I love cycling. I'll always be riding my bike. I come from a cycling family. I'll probably be there in 20 years' time marshalling on the corner somewhere for a local 10km (time trial). I'll still be in a cycling club. It's pretty embedded."
On the eve of Olympic time trial:
"[The race] is just an hour and not three weeks. [The Tour de France has] been the best preparation.
"That's the baseline of worst-case scenario of pressure and expectation, with three weeks lying ahead of you. And we handled that pretty well, so an hour time trial to make history should be a doddle! My performances have been so consistent all year and I've no reason to think that is going to change."
August
After winning Olympic road time trial:
"I don't think my sporting career will ever top that now - it's never, ever going to get any better than that. What a month it's been. I won the Tour de France and the time trial at the Olympic Games. This was the plan and I've answered all the questions in the last six weeks.
"To just be mentioned in the same breath as Sir Steve Redgrave and Sir Chris Hoy is an absolute honour. To be up there with those guys as a British Olympian is very special. The important number is four [in terms of the gold medals] and I've got to carry on to Rio now and go for number five!"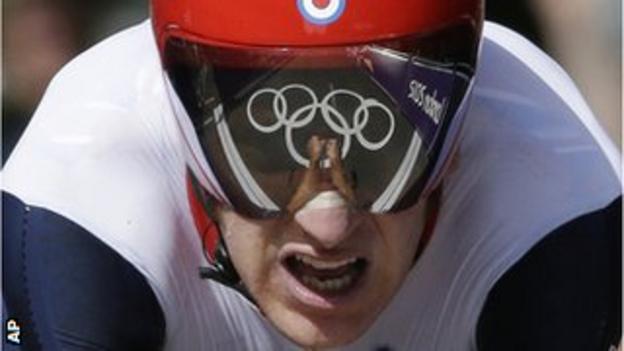 "It's the stuff of dreams. As a child, being a fan of the sport, I never imagined that one day I'd be in this position. Kids from Kilburn don't become favourite for the Tour de France. You're supposed to become a postman or a milkman or work in Ladbrokes."
On his new-found fame:
"I left home on 22 June and nobody knew who I was, in the village even, bar a couple. And then I came back to this overwhelming adulation everywhere I go. It is fantastic, brilliant, it really is - but I wasn't quite expecting the reaction.
"After the Tour de France half the world's media were camped at the end of my lane for two days, which was bizarre to say the least. This was my fourth Olympics and I'd won six medals before, but I'd always come home unrecognised really. All of a sudden, this summer has really attracted the attention of everybody. Eight weeks ago I could have done anything and nobody would have paid any attention. A lot has changed in a short period of time."
September
On riding in the 2012 Tour of Britain:
"[The support] is on a par with the Tour de France, but you kind of expect it to be like that now with the Olympics and everything else we have done. However, it is really nice.
Reflecting on his own achievements over the summer:
"It is hard to come to terms with really and I can never plan for what happens next. When I go to Tesco and am trying to pack the shopping and you are getting all this (attention), or you are trying to have a pizza with your kids in town, that is difficult.
October
On the unveiling of the 2013 Tour de France route:
"These routes always look harder in October when you've put a bit of weight on and not been on the bike for a few weeks."
November
While recovering after being knocked off his bike near his Lancashire home:
"I was very lucky because it could have been a long lay-off. I was in the hospital with police outside my ward room all night. They said whenever you want to go the toilet tell us because the press are walking round the hospital trying to get a snap of you.
"I thought this is weird, this isn't happening. I've only had an accident to my ribs. When I got out [of hospital] the road at the end of our lane was just full of press and paps (photographers) and that was when I gave the finger salute.
"They were saying 'we might not take you home, we might take you to a hotel' and I was getting really angry by that point. 'No, I'm going home. I want to go home.' It felt like such an invasion of privacy. You can't even have an accident."
December
After winning the 2012 BBC Sports Personality of the Year:
"Thank you to everyone who voted. We have had all that jungle stuff and X Factor in the last few weeks, so for people to pick up the phone and vote in half-an-hour, thank you very much.
"To be ahead of Jess [Ennis] and Andy [Murray], it's probably my greatest sporting achievement. The other stuff you can control, you can't control people voting for you.
"To my nan, the cheque is in the post because you pressed redial so many times!
"There is a free bar round the back paid for by the BBC, so we are all going round there tonight."
After being asked if it was the perfect end to the year:
"Yeah, it is. There's only the knighthood to come, isn't there, really?"