Lance Armstrong has to 'reveal facts' says GB cycling president
Last updated on .From the section Cycling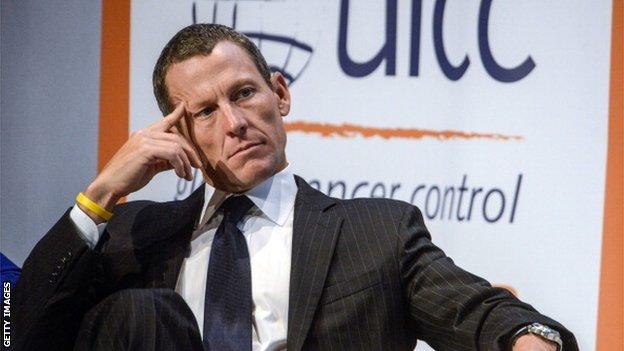 Lance Armstrong should reveal all if he admits to doping on the Oprah Winfrey show later this week, says British Cycling president Brian Cookson.
The American was stripped of his seven Tour de France wins following a report by the US Anti-Doping Agency (Usada).
Armstrong, 41, who has always denied doping, has remained silent since the report was published in October, but newspaper reports say he may confess.
"Let's have facts, names, places and times," Cookson told BBC Sport.
The interview is scheduled to be recorded on Monday with the 90-minute programme being aired on Winfrey's OWN network and live-streamed online from 21:00 EST on Thursday (02:00 GMT on Friday in the UK).
Cookson, speaking to BBC Radio 5 live's Sportsweek programme, continued: "If the allegations are true in Tyler Hamilton's book and the Usada report then there are substantial numbers of people involved.
"The real thing that has to come out is who were these other people involved? Who were the people supplying and helping him, the doctors that helped him, the companies that supplied him? Let's have that information.
"The sort of thing Armstrong was doing, according to the Usada report, was not just popping a few pills behind the changing rooms, it was sophisticated conspiracies, cheating over a long period of time on a large scale."
In his book, Hamilton, who was a team-mate of Armstrong during his Tour de France victories in 1999, 2000 and 2001, alleged that the American was a fellow doper.
Armstrong ended his fight against the charges against him in August 2012. In October, Usada released a 1,000-page report saying he had been at the heart of "the most sophisticated, professionalised and successful doping programme" ever seen in sport.
As a result he was banned from competing in cycling and all sport sanctioned by the World Anti-Doping Authority or Usada, but the New York Times reported that if he admits to doping he could then try to return to racing in marathons and triathlons.
"I think this is the only way out for him," added Cookson.
"I think there will be all these layers of emotion and obfuscation of the real issue, which is that he cheated, along with a lot of other people in and around his team.
"If [being allowed to compete in triathlons is] part of his motivation I kind of understand that but frankly we don't want him back in cycling.
"[He has] undermined the credibility of our sport to such an extent that people, who I am now confident are competing clean, are still getting smeared and slurred.
"We have had massive investment in anti-doping procedures and a real change in culture over the last five years and I'm pretty confident that the sport is much cleaner than it was but we've still got the reputational damage that was done by Armstrong, so I don't want him back in our sport.
"I hope he doesn't get a reduction in his sentence from Usada that would allow him to take part in any other sport."
The Sunday Times, which in December announced plans to sue Armstrong as a result of losing a libel action to him over doping allegations made in 2006, has taken out an advertisement in the Chicago Tribune with a list of 10 questions it wants Winfrey to ask the disgraced cyclist.
The questions include whether Armstrong, who recovered from testicular cancer, accepts "lying to the cancer community was the greatest deception of all" and if he intends to return the prize money he has won.
Armstrong was stripped of his titles by the International Cycling Union (UCI) shortly after the Usada report was released and he was given a lifetime ban from the sport.
He also resigned as chairman of the Livestrong foundation - the cancer charity he created - after the cycling body's decision.