Lance Armstrong: The claims, the denials and the demands
Last updated on .From the section Cycling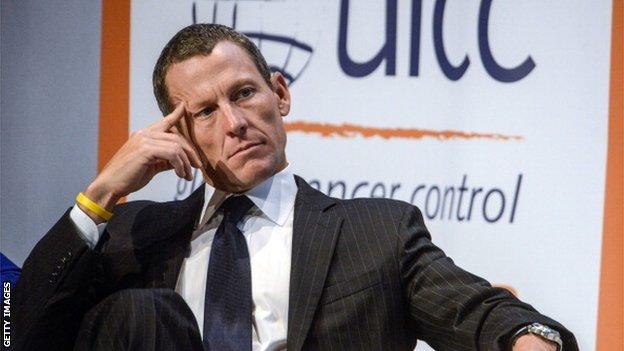 Lance Armstrong's interview with Oprah Winfrey, in which he is reported to have admitted using performance-enhancing drugs, will be broadcast at 02:00 GMT on Friday.
The 41-year-old American cyclist was stripped of his record seven Tour de France titles by the sport's governing body after a damning report by the US Anti-Doping Agency (Usada) labelled him a "serial cheat".
The US media have reported that Armstrong came clean during Monday's recording of a TV interview with chat show host Winfrey, which will be shown on the Oprah Winfrey Network in two parts, the second episode will be shown at 02:00 GMT on Saturday.
Winfrey said the American "did not come clean in the way I expected".
BBC Sport will have special live text commentaries of both broadcasts.
But before that, we look at the claims he needs to answer, his repeated denials concerning drug-use over the years and what those connected with the sport believe he should say.
The case against Armstrong
The achievements of USPS/Discovery Channel pro cycling team, of which Armstrong was part of, were, according to the United States Anti-Doping Agency (Usada), accomplished through the most sophisticated, professional and successful doping programme that sport has ever seen.
The American was "engaged in serial cheating" and his career at the team was fuelled from start to finish by doping.
More than a dozen former team-mates, friends and former team employees confirmed a fraudulent course of conduct.
Armstrong acted with the help of a small army of enablers, including doping doctors, drug smugglers and others within and outside the sport and his team.
He had ultimate control over not only his own personal drug use but over the doping culture of the team.
Team staff were good at predicting when testers would turn up and seemed to have inside information.
The evidence is beyond strong and as strong as any case brought by Usada in its existence.
What Armstrong has said before
At the end of Stage 14 of the 1999 Tour de France, Armstrong denied claims he had taken banned substances: "I have been on my deathbed, and I am not stupid. I can emphatically say I am not on drugs."
In his book, 'It's not about the bike' (2000), he condemned the use of drugs: "I never felt that way, and certainly the idea of putting anything foreign in my body was especially repulsive."
In 2001, Armstrong starred in a Nike TV commercial after being accused again of taking drugs: "This is my body and I can do whatever I want to it. I can push it and study it, tweak it, listen to it. Everybody wants to know what I am on. What am I on? I'm on my bike busting my ass six hours a day. What are you on?"
Armstrong denies the claims again in 2005 on CNN's Larry King: "I have never doped, I can say it again, but I have said it for seven years - it doesn't help."
In the build up to Armstrong's return to cycling in 2010, he starred in another Nike commercial: "The critics says I'm arrogant, a doper and washed up, a fraud. That I couldn't let it go. They can say whatever they want. I'm not back on my bike for them [shots of Armstrong are interspersed with images of cancer patients]."
In January 2011, Armstrong rebuked former team-mate Floyd Landis's claim that the American used banned substances: "I never lose sleep. It has no effect on my life. That's for other people to deal with. If you're trying to hide something, you wouldn't keep getting away with it for 10 years, nobody is that clever."
Armstrong denied Usada charges in July 2012: "I have never doped, and, unlike many of my accusers, I have competed as an endurance athlete for 25 years with no spike in performance, passed more than 500 drug tests and never failed one."
In August 2012, he announced he will not fight the charges levelled by Usada: "There comes a point in every man's life when he has to say, 'Enough is enough.' For me, that time is now. I have been dealing with claims that I cheated and had an unfair advantage in winning my seven Tours since 1999."
In response to Usada's damning report published in October 2012, he tweeted: "What am I doing tonight? Hanging with my family, unaffected, and thinking about this [a link to his Livestrong website]."
What others demand Armstrong says on Oprah
British Cycling president Brian Cookson: "Let's have facts, names, places and times," Cookson told BBC Sport. "The real thing that has to come out is who were these other people involved? Who were the people supplying and helping him, the doctors that helped him, the companies that supplied him? Let's have that information."
British cyclist David Millar, who served a two-year ban after admitting doping in 2004 and is now a member of the athletes' commission for the World Anti-Doping Agency: "Only Lance would get to have his moment of truth, if that's what it will be, in front of Oprah Winfrey," Millar told the Daily Telegraph. "It is not sitting in front of a judge or a disciplinary hearing being properly questioned about the things he has done wrong."
Director general of the World Anti-Doping Agency David Howman: "This guy is an enigma and nobody really knows what he is going to do, no matter what he says," said Howman. "I think he's got his own demons to deal with but nothing can be done about this lifetime ban when he hasn't done anything to help us yet."
Cycling commentator Phil Liggett on Australia's Today programme: "All I would like Lance to do, as he's led us all down the garden path since 1998, is to tell the absolute truth," said Liggett. "Above all to go and tell the doping agencies how he did it because he got through every test he took."
Former Tour cyclist Matt DeCanio: "It's a last-ditch effort to try and gather any public support so he can continue his racing," he told BBC Sport. "He'll do anything to make people like him. If crying is what it takes, then he'll cry. He's going to play the world - like he has done for his entire career."
Jaimie Fuller, the founder of Change Cycling Now, a pressure group demanding reform of the sport: "What I would like to hear him say is how sorry he is to all the people he did his dirty tricks on," Fuller told the Daily Telegraph. "The people he has publicly belittled and treated appallingly."