Lance Armstrong: Doping panel calls emergency UCI meeting
Last updated on .From the section Cycling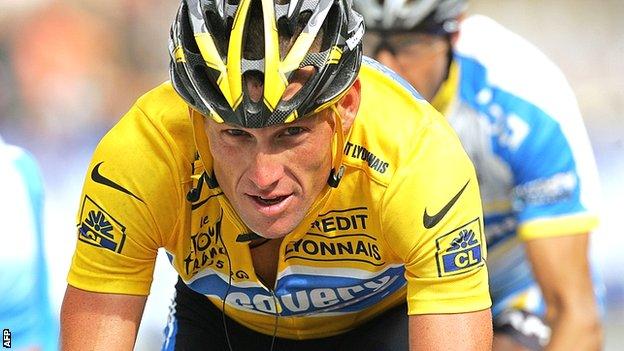 The independent commission set up to probe doping in cycling says an amnesty for those who admit to past involvement is needed if the truth is to emerge.
The International Cycling Union (UCI) but has rejected an amnesty.
As a result, the world (Wada) and US anti-doping (Usada) agencies and pressure group Change Cycling Now (CCN) will not take part in the inquiry.
The UCIIC has called for an emergency meeting to resolve the stand-off.
That meeting - where this issue will be addressed with the UCI - is to be held in London, and in public, as soon as possible after 21 January.
On establishing the three-person commission in November, which is composed of two distinguished sports lawyers and Baroness Tanni Grey-Thompson, UCI president Pat McQuaid had said: "We will co-operate fully with the commission and provide them with whatever they need to conduct their inquiry."
But the UCIIC's request for a Truth and Reconciliation process - in which a full or partial amnesty is offered to riders, team management, or others involved in professional cycling, who confess to past involvement in doping - has not been granted.
"It is of great regret to the commission that the UCI, Wada and Usada have not been able to reach agreement to a truth and reconciliation process, and that Wada, Usada and CCN have indicated they do not wish to participate in the inquiry on the present terms of reference," said a UCIIC statement.
"The commission is of the view that a truth and reconciliation process is desirable for the purposes of this inquiry, and that such a process would ensure that the most complete evidence is available to the commission at its hearing in April 2013.
"The commission is of the view that such a process would be in the interests not only of the inquiry, but also of professional cycling as a whole. The commission, via the solicitors to the inquiry, has written to the UCI's solicitors, urging the UCI to reconsider its position.
Usada, the body which investigated and disclosed is damming of the UCI's current stance.
"UCI's refusal to agree to allow a limited opportunity for riders to come forward and be truthful without fear of retribution or retaliation from the UCI obviously calls into question the UCI's commitment to a full and thorough investigation," said Usada chief executive Travis Tygart.
"It creates grave concern that the UCI has blindfolded and handcuffed this independent commission to ensure a pre-determined outcome. The current terms of reference are not good for clean athletes or moving this sport forward to a better future."
CCN added: "CCN has confirmed that the UCI's power of veto on all amendments to a supposedly independent review, is completely unacceptable and that CCN will play no part in a process that continues to be singularly orchestrated by the organisation that is under investigation.
"Therefore, CCN will neither co-operate with, or endorse a toothless and wholly inappropriate process that is clearly not independent of UCI interference.
"At present, it is clear the commission is being systematically prevented from conducting a truly independent review by inappropriate interference from the UCI."