IOC calms fears cycling could be dropped from Olympics
Last updated on .From the section Cycling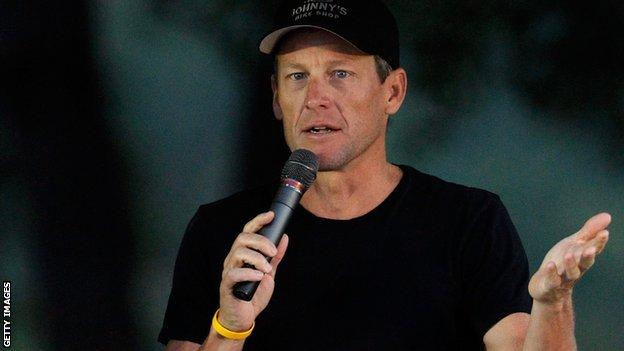 The International Olympic Committee has moved to calm fears cycling could be dropped from the Olympics.
Armstrong will answer claims he doped during his career in an interview with Oprah Winfrey, broadcast on Friday.
But IOC board member Sir Craig Reedie said cycling's place in the Olympics is "not currently on the agenda".
The interview, to be shown at 02:00 GMT on Friday, could put the spotlight on the UCI, with Winfrey saying Armstrong "did not come clean in the way I expected".
But Reedie told BBC Radio 5 live: "There is clear evidence that cycling is a much cleaner sport than it was so the argument is: 'do you punish all of the current clean riders on the basis people cheated a few years ago?'
"It's a tough call. I suppose it is one of the sanctions. The IOC have become involved with sports which have had problems and helped them resolve them.
"I think the IOC is more likely to take that route rather than just turn around automatically and say 'you're out of the [Olympic] programme'.
"Dick has made those [comments] before, I suppose what he is suggesting is possible but, to the best of my knowledge, it's not currently on the agenda."
Armstrong, 41, was accused of leading "the most sophisticated, professionalised and successful doping programme" in sport by the US Anti-Doping Agency (Usada) last year.
He was stripped of his seven Tour de France titles and banned from competitive sport.
An independent commission was established by the UCI following the publication of Usada's investigation into Armstrong.
Usada also raised questions about the UCI's own role and relationship with Armstrong during his career.
In December, the IOC postponed a decision on whether to strip Armstrong of his Olympic bronze medal because it had to wait until the UCI had declared all his results ineligible.
If Armstrong does make a confession in the interview with Winfrey, the IOC could ask for the medal to be returned.