Lance Armstrong expected to give drug answers to Oprah Winfrey
Last updated on .From the section Cycling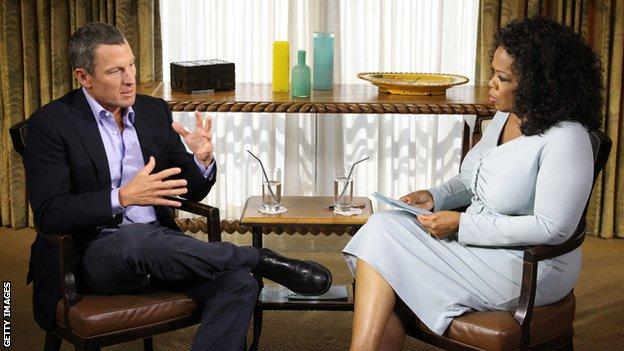 Lance Armstrong is expected to address claims he used performance-enhancing drugs in a two-part television interview to be broadcast on Friday.
The former cyclist, 41, recorded the interview with Oprah Winfrey in his home city of Austin, Texas.
It will be shown at 02:00 GMT on Friday and Saturday.
Armstrong was stripped of his seven Tour de France titles after being labelled a "serial cheat" by the US Anti-Doping Agency (Usada).
Chat show host Winfrey, who conducted the two-and-a-half-hour interview with Armstrong on Monday, has revealed that the American "did not come clean in the manner I expected".
But she said that she was "satisfied" with his answers, that he was "serious and thoughtful", had prepared well for the interview and had "met the moment".
The interview will be shown on her Oprah Winfrey Network in the United States at 21:00 eastern time on Thursday and Friday, and streamed live online.
A spokeswoman for the Oprah show said that Armstrong had not been paid to appear and that Winfrey had been free to ask any question she wanted.
The International Cycling Union, which is the sport's governing body, stripped Armstrong of all results since 1 August 1998 and banned him for life after Usada's investigation into systematic doping. He has also been asked to return the Olympic bronze medal he won in Sydney in 2000.
Usada also gave him a life ban for what it described as "the most sophisticated, professionalised and successful doping programme that sport has ever seen".
The organisation released a 1,000-page report last October, which included sworn testimony from 26 people, including 15 riders with knowledge of the US Postal Service Team, for which Armstrong competed.
Armstrong also later resigned as chairman of the Livestrong Foundation, the cancer charity he created.
But his lawyer, Tim Herman, has described the Usada report as a "one-sided hatchet job" and the cyclist himself has accused the agency of offering "corrupt inducements" to other riders to speak out against him.
Armstrong won the Tour de France for seven successive years between 1999 and 2005 after overcoming testicular cancer.
He has consistently denied taking performance-enhancing drugs, but announced last August that he would no longer fight Usada's charges against him.
An admission of guilt could raise a series of legal issues for Armstrong.
He could face perjury charges if he confesses to using performance-enhancing drugs, because he made sworn testimony in a 2005 court case that he had never done so.
New York defence attorney Stuart Slotnick told BBC Sport earlier this month that the passage of time could help Armstrong, though.
"Perjury is a statement under oath that is false and carries a potential prison sentence of up to five years," said Slotnick.
"But in most cases, with exceptions such as murder, the Statute of Limitations means you have five years in which you can be prosecuted from the date of any crime. After that time, a defendant can go to the judge and say it's too late."
Former teammate Floyd Landis - who was stripped of his 2006 Tour de France title for doping - has filed a federal whistle-blower lawsuit accusing Armstrong of defrauding the US Postal Service, which paid more than £18.7m to sponsor the team Armstrong competed for.
The US Department of Justice is reportedly considering whether to join the lawsuit against him and Armstrong's lawyers are said to be in negotiations to settle the suit.
In addition, the Sunday Times is already suing Armstrong for £1m over a libel payment to him in 2004 after the newspaper alleged he had cheated.