Media unmoved by Lance Armstrong's confessions
Last updated on .From the section Cycling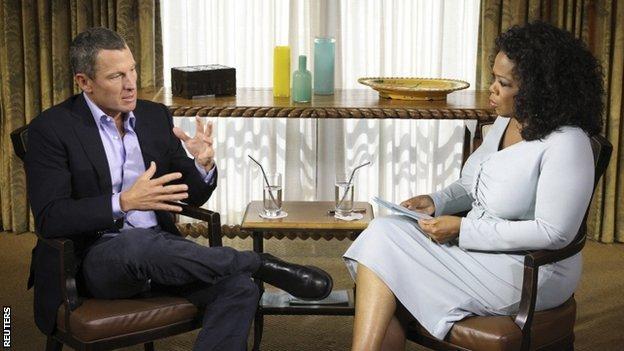 If Lance Armstrong hopes to salvage his reputation after his interview with Oprah Winfrey, a quick glance at the morning headlines shows that he has much work to do.
The 41-year-old's confession to using performance enhancing drugs during his decorated career has drawn fierce reactions from across the world.
Only in China was there any sympathy towards the cyclist, with frequent reference to his charity work and efforts to raise awareness of cancer.
No explanation
The Washington Post said Armstrong provided "highly rehearsed, cathartic answers. As if he'd been preparing for this moment for a long, long time".
Meanwhile, the New York Times said "Armstrong appeared as reasoned and dispassionate telling the truth as he did all those years that he so fluently and convincingly spun a lie," and portrayed the Texan as a "cheating cad in one of the great American love stories".
The paper's description of the interview as a "confession without explanation" was a common theme, with many commentators voicing frustration at Armstrong's refusal to provide specific details.
French paper Le Figaro called it a "confession, without any light," while Germany's Suddeutsche Zeitung said "Armstrong talked a lot - and said nothing new."
France's Le Monde noted that the Texan's admission had not been "particularly repentant".
The Spanish daily ABC said Armstrong's "brutal" confession aroused the anger of viewers. The paper created a word cloud from audience reactions which showed the most used phrases to be "pathetic, loser, idiot, liar, narcissist, fraud and gross".
"Insincere, evasive and self-serving" was Australian daily The Herald Sun's no-holds-barred assessment of the interview. Journalist Leo Schlink said Armstrong had "contrived a victim mentality to Winfrey's questioning, attributing his own viciousness to an impoverished childhood."
Schlink described Armstrong as an "unreconstructed thug".
On a similar note, Russian businessman Oleg Tinkov, who sponsors a top-level cycling team Saxo-Tinkoff tweeted: "Lance Armstrong has admitted to doping. The whole cycling sport knew it. But Americans are such hypocrites - they are champions! I knew him personally, what a jerk."
Meanwhile Russia's Komsomolskaya Pravda lamented that "the god became an outcast in an instant. And his fall put the very existence of professional cycling at risk."
Sympathy in China
There was a marked contrast in tone of reports in Chinese, where judgement on Armstrong's use of performance-enhancing drugs was tempered by appreciation of his charity work.
A pundit on the Zhengzhou Evening News acknowledged this disparity, saying: "Most Chinese netizens [online communities] recognize Armstrong's contribution to society, eagerly call for 'lenient treatment' and disapprove of beating him to death with a stick".
Meanwhile, People's Daily said: "In the face of facts, everyone can denounce Armstrong... Yes, he lied to the world. At the same time, he founded the 'Livestrong' foundation that has been helping those suffering from cancer."
The Chutian Metropolis Daily made a similar point, saying: "Hillary could forgive Clinton, Vanessa could forgive Kobe, so why can't Armstrong be given a chance to make up for his misdemeanours?"
Indian paper First Post also discussed the Texan's work at raising cancer awareness, saying: "The tragedy with Lance Armstrong's admission to the use of PEDs is that, as his brand disintegrates, so will the support he was able to attract for cancer awareness. The biggest loser, sadly, may not be Lance Armstrong, but the battle against cancer."
BBC Monitoring reports and analyses news from TV, radio, web and print media around the world. For more reports from BBC Monitoring, click here. You can follow BBC Monitoring on Twitter and Facebook.