Lance Armstrong: I didn't offer bribe to anti-doping body
Last updated on .From the section Cycling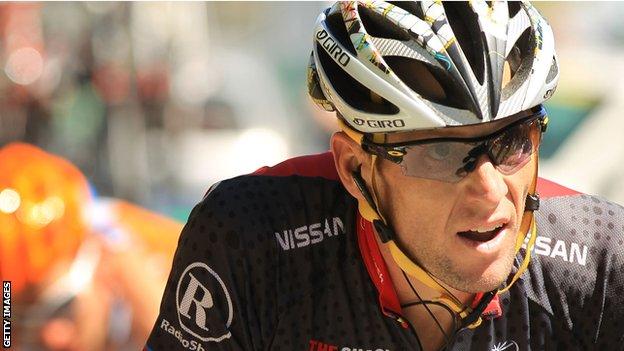 Lance Armstrong has denied claims by the United States Anti-Doping Agency (Usada) that he offered a large cash donation while under its investigation.
Usada chief executive Travis Tygart made the claim last week.
But Armstrong, 41, asked why the allegation did not appear in Usada's 1,000-page report into his activities.
Usada issued the report in October 2012 in which it claimed Armstrong was a "serial cheat" behind a widespread doping programme that helped him to win seven Tour de France titles between 1999 and 2005.
Last week Tygart, in an interview with US television news magazine 60 Minutes, said that Armstrong's representatives had tried to offer "in the ballpark of $250,000" to the organisation in 2004: "It was a clear conflict of interest for Usada and we had no hesitation in rejecting that offer."
But Armstrong told Winfrey: "That's a lot of money. That is not true."
He added: "In the 1,000-page reasoned decision that they had issued, there was a lot of stuff in there, everything was in there, why wasn't that in there?"
Armstrong also denied doping during his comeback to cycling in 2009 and 2010, contrary to Usada evidence contained in its report.
Following Armstrong's interview Usada issued a statement confirming Travis Tygart's account. "We stand by the facts both in the reasoned decision and in the 60 Minutes interview," it said.