David Brailsford doubts need for 'truth and reconciliation' process
Last updated on .From the section Cycling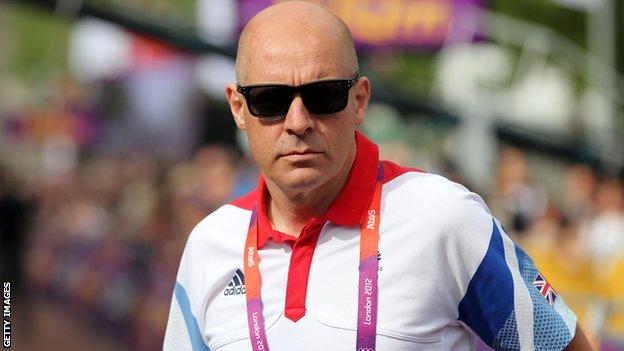 Sir David Brailsford has questioned the need for a "truth and reconciliation" process in cycling after governing body the UCI suggested one is needed.
Pat McQuaid, president of the UCI, advocates a system persuading riders to come forward with information about doping without fear of retribution.
He believes it is the best way to examine doping in cycling in the past.
British cycling coach Brailsford said: "It is important you get the truth. But there is a law of diminishing returns."
He added: "Already I think there is a wealth of information that you can actually start taking action and putting tangible things in place - preventive measures if you like."
In November last year, the UCI set up a three-person independent commission (UCIIC), consisting of Baroness Tanni Grey-Thompson, former Court of Appeal judge Sir Philip Otton and Australian lawyer Malcolm Holmes, to investigate the Lance Armstrong affair.
The commission had asked the UCI for its own truth and reconciliation process to provide a full or partial amnesty for those testifying.
Initially, the UCI rejected an amnesty, leading to the withdrawal of Wada, the US anti-doping (Usada) agency and pressure group Change Cycling Now (CCN).
It later said it would give "necessary assurances to those coming forward" and a public procedural hearing was held on Friday to discuss the stand-off.
The hearing heard that the UCI had yet to release any documents to the independent commission, before it was adjourned until Thursday 31 January.
"It amazes me that we've had no documents whatsoever," Britain's 11-times Paralympic champion Baroness Grey-Thompson, told UCI counsel Ian Mill.