Frank Schleck: Banned cyclist to miss Tour de France in 2013
Last updated on .From the section Cycling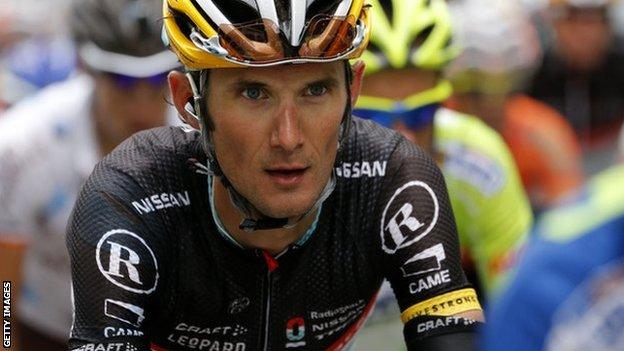 Frank Schleck will miss the 2013 Tour de France after he was given a one-year backdated ban for failing a drug test during last year's race.
The Luxembourger's ban started on 14 July, 2012 - the day of his failed test - meaning he will miss this year's Tour, which begins on 29 June.
Schleck, 32, denied knowingly taking a banned substance and can appeal to the Court of Arbitration for Sport (Cas).
The RadioShack-Nissan rider, older brother of 2010 Tour de France champion Andy, finished third overall in 2011.
He was lying 12th in 2012 when he was pulled from the Tour after his failed test, before failing a second 'B' test two days later.
He can appeal against the punishment, imposed by the Luxembourg Anti-Doping Agency, but the sport's governing body, the International Cycling Union, and the World Anti-Doping Agency can also refer the case to Cas if they feel a longer ban is merited.
Xipamide - a diuretic- is a sulfonamide used for the treatment of oedema, fluid retention and hypertension.
Schleck said at the time: "We are analysing minute by minute what exactly I have been doing, eating, drinking on the days before the control and on the 14th of July itself, who I met, what materials I came in contact with, what nutritional supplements I took."