Lance Armstrong claims he is cycling's 'fall guy'
Last updated on .From the section Cycling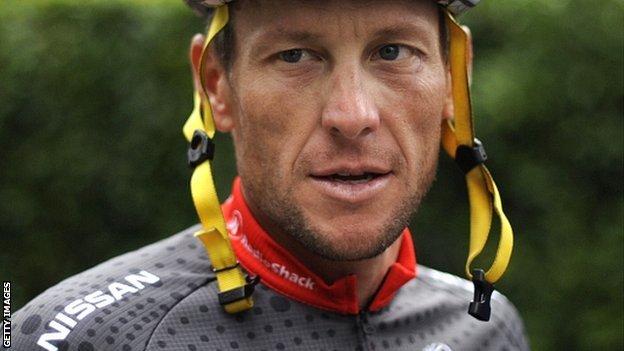 Lance Armstrong says he is a 'fall guy' for cycling's doping culture and believes that no generation of riders has ever been exempt from cheating.
The American was stripped of and banned from sport for life before
"Yes I do, but I understand why," he replied when asked by Cyclingnews if he felt he was a "fall guy".
"My generation was no different from any other. From hopping on trains a 100 years ago to EPO now."
The 41-year-old added: "The 'help' has evolved over the years, but the fact remains that our sport is damn hard, the Tour was invented as a 'stunt', and very tough [athletes] have competed for a century and all looked for advantages."
"No generation was exempt or 'clean'."
The International Cycling Union (UCI) has announced a truth and reconciliation commission, disbanding a previous three-person anti-doping enquiry that as its new plan for cleaning up the sport.
However the proposal has already run into controversy with the World Anti-Doping Agency (Wada) for claiming it had agreed to work alongside it.
Armstrong believes that a version of the UCI plan is the "only way" for cycling to move forward as a sport.
"As much as I'm the eye of the storm this is not about one man, one team, one director," he added.
"This is about cycling and, to be frank, it's about all endurance sports. Publically lynching one man and his team will not solve this problem.
"Letting some race the season then giving minor off-season sanctions versus the death penalty (for similar offences) isn't fair and isn't about 'cleaning up cycling'. It's about getting your man."
Armstrong added that an official investigation into cycling's doping past should call every rider with a podium finish in a Grand Tour or World Championship without the possibility of punishment.
He insisted that a complete amnesty was necessary "otherwise no one will show up. No one."
Armstrong's comments come on the day that Frank Schleck, who finished third in the 2011 Tour de France, was given
Of the 33 Tour de France wins since 1980,
In 1904 Maurice Garin, who had won the inaugural edition of the race the year before, was stripped of his title amid allegations that he had taken a train to bypass a difficult section of a stage.