Scottish female cyclists on track for Glasgow 2014

By Keir Murray
BBC Sport Scotland
Last updated on .From the section Cycling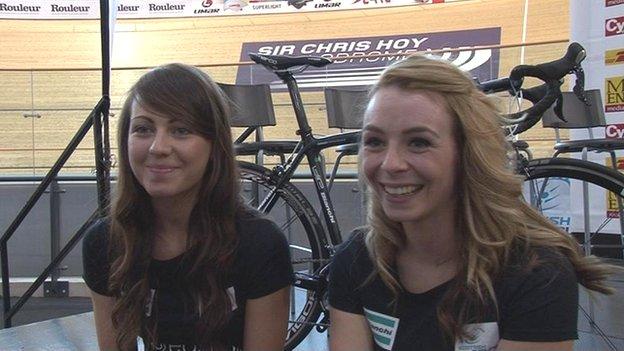 Remember the names Kayleigh Brogan, Laura Murray, Anne Ewing, Jane Barr and Eileen Roe.
At next year's Commonwealth Games, one or more of them could be a Scottish sporting hero.
Before then, this young quintet will be whizzing round the roads of the UK and mainland Europe wearing the colours of the new Breast Cancer Care cycling team.
Scottish Cycling is a major partner in this new 16-strong professional road-racing team, its investment designed to prepare the women for Games in Glasgow.
Its goal, too, is to spark an interest in young girls to become Scotland's answer to, say, Nicole Cook, the recently retired Welsh rider who won Olympic, World and Commonwealth golds.
Brogan, Murray, Ewing, Barr and Roe are at the stage in their careers where they need a stiffer level of competition if they want to challenge for medals at the Glasgow Games.
Ewing, Barr and Roe wore Scotland colours at the Commonwealth Games in Delhi in 2010 but did not threaten a podium finish.
Brogan, from Paisley, is the Scottish road race champion and national circuit race champion, and High Valleyfield's versatile Roe is the country's top women's cross-country rider.
They now face an 18-month programme of pro racing against the top riders in Europe to raise their game.
"It's exciting," said Brogan, 21. "It gives us the opportunity to go to the top races. We wouldn't be able to do it without it.
"We would be in the UK and it wouldn't be bringing you to the level you need to be at for 2014."
For Roe, who has been cycling since she was 10, being part of the team is a great boost for her Commonwealth dreams.
"I'm hoping to be a medal contender. I want to win a medal for Scotland," she said.
"I've been racing in Holland for three years in fields of 120-plus. In Scotland you'd be lucky to get 30.
"We have to go there because it is the best racing you can get, racing against the likes of Marianne Vos and Lizzie Armitstead."
Some members of the team, like Roe, were in the part-Scottish funded Team Ibis, which collapsed last year when its Dutch backers withdrew, forcing a rethink by the sport's governing body in Scotland.
"We were looking for opportunities to develop our own athletes. Through our head coach Graeme [Herd] and team manager Rene [Groot], it came about," explained Craig Burn, chief executive of Scottish Cycling.
"To do it on your own is very expensive, particularly when you are racing in Europe a lot.
"It's about giving the athletes exposure to a team environment, preparing them for elite-level competition.
"The standard of cycling in Commonwealth Games is very high.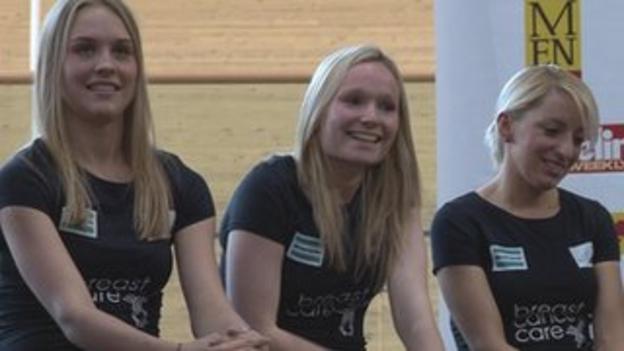 "Our ambition is to put in the best team we possibly can. To do that we need to do it through a pro-UCI registered trade team."
Coach Herd's base is the Sir Chris Hoy Velodrome in Glasgow's east end and it was there that the Breast Cancer Care team held its launch event at the weekend.
He will work with the Scots riders and Groot to develop each athlete's training and racing programmes. The pair insist there are so many events in the calendar that all 16 riders in the team will have plenty of race time.
"The challenge is to structure a race programme that gets the best out of every individual and that works for the team," Herd told BBC Scotland.
"With 16 riders on the roster we are not overloaded."
Following the Team Ibis crash, he describes the launch of the team as "a promising rebirth" and is determined to establish a more permanent coaching, development and racing structure for female cyclists.
Part of that will be the hiring of a property on continental Europe to act as a base for the team, which has on its roster Dame Sarah Storey, the Danish 2011 national road race champion Julie Leth, the Under-23 British time trial champion Elinor Thorogood, Amy Bradley from Australia and Ciara Horne from Wales.
"The riders are scattered across the globe at times but we are looking for a place in Belgium for the riders to live," said Groot.
"The riders will interact with each other quite a lot. We will be racing every week."
Barr, a former middle-distance runner, explained: "The one-day classics are first in the calendar, a lot of people target them, then there are the hill climbs and stage races.
"You can plan out your season depending on what you want to aim for."
And her team-mate Ewing pointed to the breadth of talent in the team: "There are climbers and sprinters so we have someone for every kind of race. We should complement one another really well."
While chief executive Burn would love to see a medal around the neck of a Scottish female rider, he is just as enthusiastic about the role these five cyclists can play across the country.
"It's also about how we inspire the next generation of girls to get involved in cycle sport," he said.
"If we can create the ambassadors, and get commercial partners, then this is how we can do that and raise the profile of cycling in Scotland as a whole."