Lance Armstrong agrees to 'help clean up cycling'
Last updated on .From the section Cycling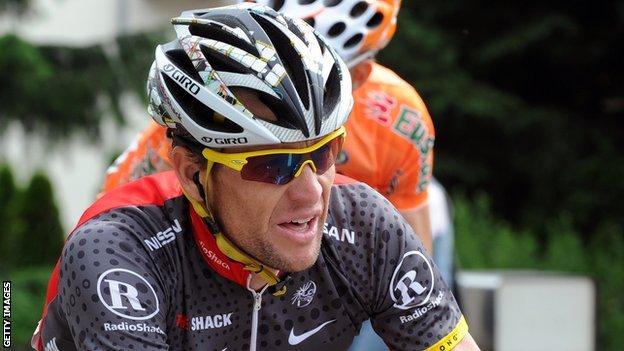 The US Anti-Doping Agency (Usada) says Lance Armstrong now wants to "help clean up" cycling.
Usada had given the banned cyclist a 6 February deadline to provide full details under oath of his doping.
But it has now allowed the 41-year-old another fortnight to consider his testimony.
"We understand that he does want to be part of the solution and assist in the effort to clean up the sport," said Usada chief executive Travis Tygart.
"We have agreed to his request for an additional two weeks to work on details to hopefully allow for this to happen."
Armstrong confessed to taking performance-enhancing drugs during all seven of his Tour de France wins in an interview with Oprah Winfrey last month.
Usada had charged Armstrong last June with using performance-enhancing drugs after federal prosecutors in California dropped their investigation into doping.
The American filed a lawsuit against Usada the following month, accusing them of "corrupt inducements" to other cyclists to testify against him.
He then announced in August that he would not fight the doping charges filed against him, and was given a life ban by Usada.
The International Cycling Union (UCI) accepted the findings of Usada and stripped Armstrong of his seven Tour de France titles.
Of the 33 Tour de France wins since 1980,
By complying with the current Usada investigation, Armstrong could be eligible under the World Anti-Doping Code to have his lifetime ban overturned.
He likened the life ban imposed by Usada to a "death penalty", and although he has said that he had no intention of returning to professional cycling, he is keen to compete in marathon and triathlon events.
Armstrong has also called for a 'truth and reconciliation commission' (TRC) overseen by the World Anti-Doping Agency (Wada) to look into the issue of doping in the sport.
Asked why Wada and not Usada should oversee the process, Armstrong told cyclingnews.com: "No brainer. This is a global sport not an American one. One thing I'd add - the UCI has no place at the table.
"When I was on speaking terms with old Pat McQuaid (the UCI president) many, many months ago I said, 'Pat, you better think bold here. A full-blown, global, TRC is our sport's best solution.' He wanted to hear nothing of it."