Laura Trott says her success makes her a marked woman

By Tom Fordyce
Chief sports writer, BBC Sport
Last updated on .From the section Cycling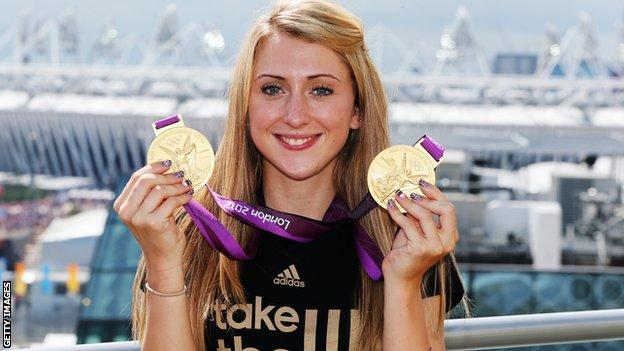 Britain's double Olympic champion Laura Trott admits her success has made her a marked woman.
She told BBC Sport: "In Melbourne I was attacking and attacking and no-one really cared.
"Now, my rivals are now on me like a leech. Attacking in group events is not going to happen."
She added: "I hadn't stood out; hadn't even won a World Cup event a year ago.
"I'm shown more respect now, and that can work against you.
"I have to be smart and race with that knowledge. As long as you understand that your rivals will now behave like that, you can deal with it."
Trott was the break-out star of British track cycling last year; her two golds at the worlds and repeat at the Olympics meaning that, aged just 20, she now has eight gold medals from her eight major championship tilts.
Her road-racing compatriot Lizzie Armitstead recently criticised the disparity in media coverage and wealth between men's and women's cycling.
But Trott, who will race with new women's road outfit Team Wiggle-Honda after the World Championships, believes her sport receives the attention it deserves.
"I can't complain," she said. "On the road I get that it's not televised, but you need to attract the sponsors in the right way.
"We need to embrace what we have and use it. Sponsors will go where it's watched more - and if that's the track, that's the track.
Trott will play a domestique's role with Wiggle-Honda, using the contrasting demands of road racing to build her strength for the track without changing her primary aim.
"It's not about winning for me, because road isn't my main focus," Trott added. "I've only ridden for club teams on the road before - nobody wanted to sign me, so this is perfect. The set-up is all you could want from a team.
"I've never committed enough to know if I'm good enough on the road. If it turns out I am, I might turn my focus a little in the next two or three years, but by the Rio Olympics I really am going to focus on the track."
In Minsk Trott will again combine with Jo Rowsell and Dani King in the team pursuit, the event they have dominated over the past year.
In London they broke the world record in every round en route to gold, something Trott puts down to the closeness between the trio as well as their ferocious training.
She said: "At the Olympics it was just perfect - it felt like we were just one rider going around. We rode so well.
"I don't think you have to be best mates, but you have to know each other. It's the trust you put in those guys.
"We knew exactly what each other would do, and exactly what each would give each other. Jo doesn't like sitting on a wheel - she'll always be a little further back. But at the Games she was right on tight. All of our turn lengths were as planned. Everything ran perfectly."