Scottish champion Rab Wardell rediscovers joy of cycle racing

By Keir Murray
BBC Sport Scotland
Last updated on .From the section Cycling1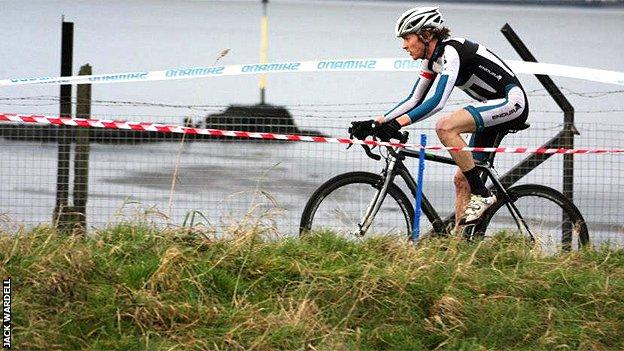 Rab Wardell has many reasons to hope Glasgow makes a success of staging the Commonwealth Games next year.
Having worn the Scotland colours in Melbourne in 2006, he hopes to represent his country again when the Games come to the city he has called home for the past five years.
Not only that, but when the mountain bikers cascade around the Cathkin Braes, they'll be tearing up a course he has helped to develop.
Further, it's his dream that a successful Games will propel him to a professional career in mountain biking - and that they will provide a legacy for future Scottish riders.
But legacies, naturally, can come later. At 27, Wardell is in no mood to waste time. He's hurtling into the forthcoming season like a man on a mission.
In the past decade, he has come within a whisker of representing Great Britain, raced for Scotland, quit racing to work as a development officer for Scottish Cycling, coached young cyclists, moved into course design and, crucially, regained his appetite for competition.
"Riding for Scotland in Glasgow 2014 would be something special," said Wardell.
"My focus is to make sure in the qualification period I ride as well as I can. I'd like to get to next May [the cut-off point for selection] and have no regrets.
"I'll put everything into earning the right to ride for Scotland.
"If there are better riders than me I'll have to take it on the chin and wish them well.
"We'll be fielding the best Scotland team we can and I know it will be a great team."
Wardell, originally from Fife, recently won the men's race in the rescheduled 2012 Scottish Cyclo-Cross Championships at a sleet-lashed Strathclyde Park in Lanarkshire.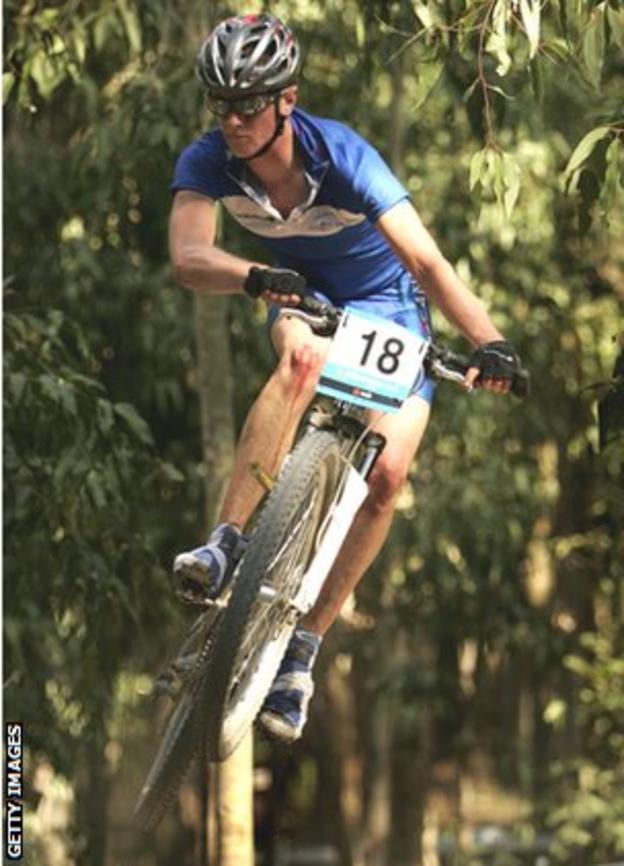 An inch of ice had put paid to the event in December.
While delighted to be Scottish champion, his post-race comments signified where, and in which discipline, his real goals lie.
He told BBC Scotland: "It's been a good confidence boost but the mountain bike racing starts soon and it's all about meeting the qualifying criteria for the Commonwealth Games."
For an avid mountain biker, cyclo-cross is a means to an end, a way to stay fit throughout the winter and to develop bike-handling skills before the mountain bike calendar begins in March.
"I've been working really hard in the gym and riding cyclo-cross to keep my weight down," he added.
"I have stayed focused and hopefully that will pay dividends for the rest of the season."
Commonwealth Games cycling falls into three categories: track sprint and endurance events, road races and time trials, and mountain bike cross-country.
Wardell's target is to be one of the three men and three women chosen for the latter discipline by Scottish Cycling.
He began cycling when he was 15 "purely for fun". Three years later, in 2003, he was riding for Great Britain as a junior, in the days before British Cycling had established its Under-23 Academy.
"It was an opportunity to try to qualify for Great Britain at the World Championships, which I missed out on by one place," said Wardell.
"It was difficult but it was progress; we didn't have Scottish riders doing that at that point.
"I continued to compete as an elite international rider for two years with the support of Scottish Cycling and the Braveheart Fund.
"I then competed at Melbourne aged 20. After that the investment really needed to be put back into development. I was involved in that; I became a development coach for Scottish Cycling in the west of Scotland in 2007.
"I had stopped racing because I was struggling with the funding, which knocked my motivation a little bit.
"But I've come back to it now. The support is stronger than it has ever been."
Wardell admits that when he first returned to competitive racing he "didn't apply himself in the way required to compete professionally".
But in the past 18 months, he maintains, his commitment to win a Commonwealth Games place and to turn professional has been complete.
Riding for Alpine Bikes, he is also part of Scottish Cycling's programme, which has helped to finance his racing.
"My ambition is to compete as a professional for as long as I can," he said.
"My aim is to compete in the World Cup, to compete at Glasgow 2014, to win British titles. I just want to see what my potential is and take it there."
The mountain bike course at Cathkin Braes will host part of the Scottish Cross-Country series in May and the British Championships in July.
It's a course he knows well, having been invited to contribute to its design.
He said: "I'm kind of being used in a consultancy role. Glasgow Land Services and the guys at Architrail, who designed the trail, consulted a lot of people, from technical delegates from the UCI, to coaches and riders.
"My take was coming into it from an international rider's perspective, developing features and ensuring sections are built as well as they can be and also sharing my experience of trails around the world and showing what riders are capable of.
"We are looking to get a trail that is world leading for Glasgow 2014."
And so to legacy. With the Cathkin Braes course adding to the Sir Chris Hoy Velodrome, albeit both in the west of the country, Scotland's cycling facilities have improved dramatically.
"I hope a real scene develops," he said.
"We've got the facilities for mountain biking and for track now and the roads are fantastic.
"The level of racing goes up every year and the level of support goes up every year so there is no reason why cycling cannot become a mainstream sport in Scotland.
"We've had it with downhill mountain biking recently with guys like Ruaridh Cunningham. Now I'd love to see more Scottish-based professional cyclists that can compete on the world stage."