Giro d'Italia 2014 to begin with three days of Irish action
Last updated on .From the section Cycling44
Next year's Giro d'Italia will begin in Belfast as part of three days of action on both sides of the Irish border.
The cross-border start to one of cycling's three Grand Tour events will be held over three stages taking place from 10-12 May.
The stages will involve routes taking in Belfast, Armagh and Dublin.
Estimates suggest a figure of around £4m will be required to bring the event to Ireland but the commercial return could be in the region of £10m.
Ireland's Stephen Roche, who won the 1987 Giro shortly before winning the same year's Tour de France, said it was a "major coup".
"Maybe it was a dream initially, but it was a realistic dream," added Roche, 53.
Tourism chiefs from Northern Ireland and the Republic are backing the event.
The start of the 104-year-old Giro has traditionally taken place in Italy but in recent times has been awarded to an outside country every two years.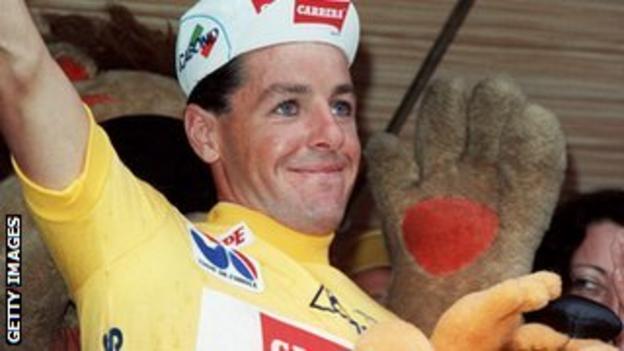 Tourism officials and government representatives from both sides of the border are attending Thursday's respective launches at Titanic Belfast and Dublin's Civic Offices on Wood Quay.
It will mean that two of cycling's Grand Tours will both make visits to Britain and Ireland next year, with the 2014 Tour de France starting in Yorkshire.
The Republic of Ireland did welcome the Tour de France in 1998 when the first three days of the race took place in the country.
Michele Acquarone, head of the Giro and managing director of Italian race organiser RCS Sport, said that Belfast would "provide spectacular backdrops for the 2014 Grand Partenza (Big Start)".
Northern Ireland Tourism Minister Arlene Foster added that "plans are already in motion to make the occasion a fabulous celebration worthy of Italian cycling traditions".
Precise stage routes for the Irish leg of next year's event have yet to be confirmed for a race which will feature over 200 of the world's top cyclists.
Roche attended Thursday's launch in Belfast and he predicted "incredible spin-offs" for Ireland from the event, which was won by Canada's Ryder Hesjedal in 2012.
"The Giro is maybe distinctive in that it is probably the second biggest event for me, in my opinion [after the Tour de France]," added Roche.
"When you consider the passion these people have, the passion these people have shown to us, it is duplicated throughout the whole Italian nation," he said.
Roche, who is one of only two men to clinch cycling's Triple Crown after he also won the 1987 World Championship, spoke of his fond memories of his Giro triumph.
"When you see all the people on the roadsides of Italy, the enthusiasm of poor and rich, they all come together for this event," he said.
"It is an incredible spectacle for anybody who loves cycling and for those who are non-cyclists but curious."
Last year's Giro was broadcast in 165 countries across all continents, reaching 125 million households and a global accumulated audience of 775 million people, organisers said.