End-2-End mountain bike race attracts huge interest
Last updated on .From the section Cycling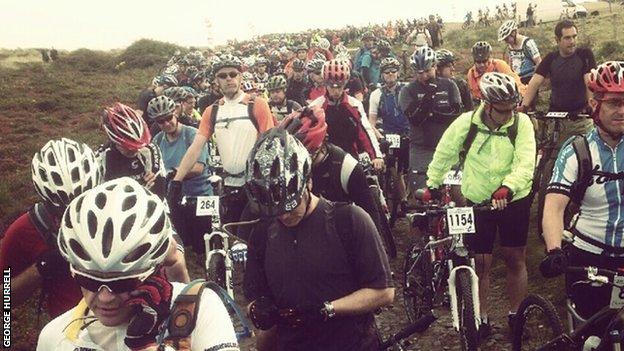 More than 1,300 cyclists have signed-up for the annual Isle of Man End-2-End mountain bike challenge since registration opened on Saturday.
Only 400 places remain for the event with entry capped at 1,700 because of the difficulty of the technical, twisting 45-mile course.
Last year Manx rider Elliot Baxter ended Nick Craig's four-year winning streak despite windy conditions.
In total, 959 of the 1,700 starters managed to complete the full course.
Organiser Steve Honeybone believes the event's popularity increases each year.
Riders have to tackle a variety of terrain and climb more than 1,500 metres as they ride from the Point of Ayre in the north of the island to Cregneash in the south.
Baxter took three hours 18 minutes and five seconds finishing eight minutes ahead of defending champion Craig, who had been going for a fifth straight title.
The End-2-End race began 16 years ago when a group of friends cycled across the island for fun, and now attracts riders from all over the world.
This year's event will be held on the 8 September.