Team Sky's Geraint Thomas endures 'coldest ever' race
Last updated on .From the section Cycling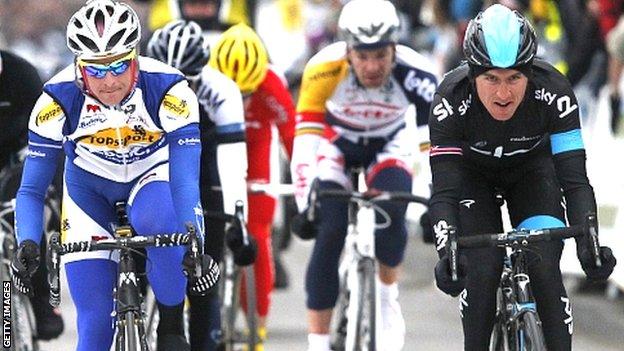 It had been a painful start to the road-racing season for Geraint Thomas, even before he crashed out of Milan-San Remo, the opening Spring Classic of 2013.
In weather that belonged firmly to winter, the Welshman rode through 117km in increasingly heavy sleet and snow.
Such were the conditions, that race organisers decided to skip a 50km section, stopping the race and dispatching the riders back to their team buses.
The riders dried out and warmed up as they were transported past the snowbound parts of the course to restart the action two hours later.
"They were the coldest conditions I have ever raced in for sure," Thomas told BBC Sport.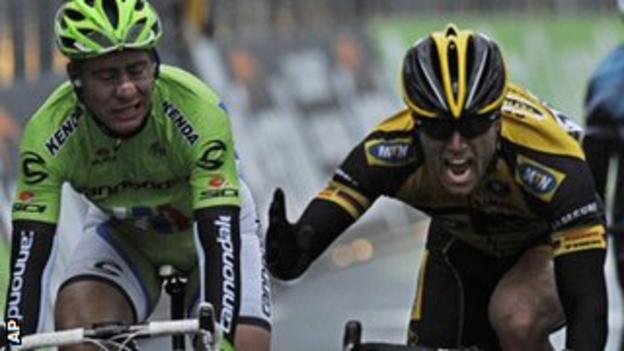 "Temperature-wise it was not as cold as last year's Het Nieuwsblad [a race which started in sub-zero temperatures, in which Thomas finished fourth], but the fact that it was wet and that it was snowing makes you that much colder again."
"Your hands and feet are the first to go. I am not really bothered about my feet, but once your hands go, you can't really brake properly and you can't get food out of your pockets.
"When you thaw out, like when we got back on the bus after 120km, it was pretty painful for a minute or so. It was quite strange to have to psyche yourself up to go back out into it to do it all again."
Not everyone in the peloton was prepared to rejoin the action.
Former Belgian world champion Tom Boonen pulled out to "make a statement to the race organisers".
Despite Thomas returning to the Team Sky bus for a second time sooner than he would have liked, he says he had no doubts about taking part in the second part of the race.
"It was obviously raceable when we got back off the bus, but was riding the first part the right decision though?" the 26-year-old Welshman added.
"It was one of the biggest races of the year so it was good that it could be finished off.
"On my crash, I was travelling maybe a kilometre an hour quicker than the guy in front of me. He braked a bit earlier and then all of a sudden the corner was on us," he explained.
"I have no cuts on me whatsoever, so that is one positive. I could easily have broken something and been out for the rest of the Classics."
Team Sky are competing on several fronts with Thomas' team-mates and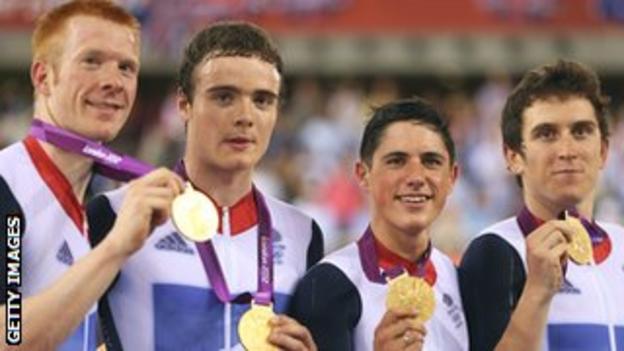 Thomas, says that there are signs that his team have the personnel to feature at stage finishes, whatever type of race emerges.
"It was great to see Ian Stannard get his chance, get stuck in and get a sixth-place finish for himself [at Milan-San Remo]," he added.
"I think we are well set up as a team. Yesterday, I was the leader but then crashed out. Then it was up to Eddie [Norwegian rider Edvald Boasson-Hagen] but he got dropped, yet we still had riders in there who could pull something out of the bag and get a result for the team.
"We have plenty of cards to play, it is just a case of seeing how the race pans out and what the team decides the tactics to be."
Next up on Thomas's schedule is Sunday's 200km-long Gent-Wevelgem race,
"Wevelgem is traditionally a bit of a sprinters' classic, but a lot can happen and if the right breakaway happens over the last 30-40 km, then who knows?" sais the Welshman.
"I'm really looking forward to it and want to get stuck in to make amends for Sunday."