British Cycling wants a million more women riding bikes

By Matt Slater
BBC sports news reporter
Last updated on .From the section Cycling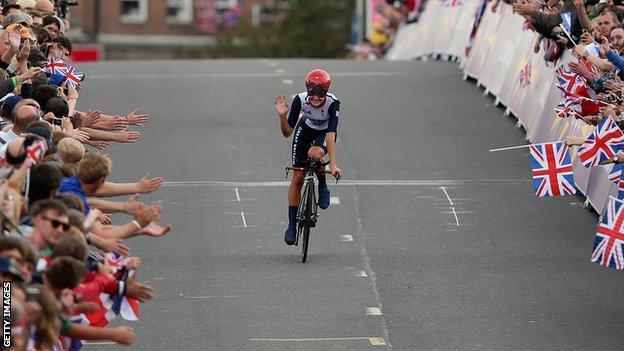 British Cycling has challenged itself to get one million more women riding bikes regularly by 2020.
The governing body's "vision for women's cycling" will be launched at the Department for Media, Culture and Sport in London on Monday.
As well as the participation target, British Cycling also wants more female coaches, events, members and officials.
"We have never been scared of a challenge," said British Cycling president Brian Cookson.
"We are not saying we are going to be perfect, far less that we are perfect now. But the direction of travel is important.
"Our aim is to inspire one million more women to get on bikes and we are determined to make this happen."
Cycling in the UK is enjoying a huge rise in popularity and profile, thanks largely to the unprecedented success of British riders, and the bike's democratic and green credentials as a means of exercise and transport.
But, as Cookson acknowledges, the sport is not perfect.
A recent "leadership audit" of 57 sports by the Women's Sport and Fitness Foundation revealed that British Cycling was one of only six governing bodies that did not have any female board members. The study also found that just 11% of its full-time coaches were female.
This is hardly surprising for a sport that has been dominated by men, at every level, for decades.
Cycling's gender bias, real or otherwise, was the spark for one of London 2012's most memorable media conferences. Britain's Lizzie Armitstead articulated the feelings of many when she told reporters she nearly gave International Cycling Union president Pat McQuaid a piece of her mind before the start of the women's road race.
"The sexism I have encountered in my career can get overwhelming and very frustrating," she said.
"There's not much I can do about it now, but I certainly hope to after my career is over."
The good news, however, is that Armitstead's job is getting easier.
Prior to the 2008 Games, British women had won only one Olympic cycling medal: Yvonne McGregor's bronze in 2000. But female British riders claimed five medals in Beijing, and five more at London, including Armitstead's road-race silver.
It is has been a similar story at the Paralympics, with Dame Sarah Storey winning six gold medals on the bike since 2008.
The advent of lottery funding has been as crucial to these improving female results as it has been for Britain's men, but a levelling of opportunities has also been important.
When McGregor won that bronze, hers was one of only four events for women in the velodrome, compared with eight for men. It was not until last summer that female track cyclists achieved parity.
Cycling's problems have also been apparent at the grassroots level.
Only a quarter of the once-a-week cyclists in England are women (525,000 out of a total of 1,962,000), but that number is edging upwards.
After the 2008 Olympics, British Cycling announced a target of one million more cyclists. That goal was reached last October and of those over a third were women (345,000). In 2012 alone, the sport added 200,800 regular riders, with almost a third (63,000) being female.
Part of the credit for this must go to British Cycling for concentrating on the barriers women have cited for not trying the sport: concerns about safety, and a sense they would not fit in.
The Times recently revealed there were 122 cycling deaths on Britain's roads in 2012, although only eight of these were women. The perception remains, however, that female cyclists are more vulnerable, possibly because of the widely reported statistic from 2009 that 10 of 13 cycling deaths in London were female.
To tackle this concern, British Cycling set up "Breeze", a programme to get more women cycling for fun, with female-only rides on quiet roads, led by trained volunteers.
And further cause for optimism comes via "Go-Ride", the sport's youth development programme. Over a third of those involved with the 280 affiliated clubs across the country are girls.
"If we can [get one million more women riding] it will go a long way to refreshing cycling's image so it is not seen as a sport only for men in Lycra," said British Olympic track cyclist Jess Varnish.
"The best thing about cycling is that anybody can do it. I'm looking forward to seeing more women riding bikes and enjoying every moment."
With almost £70m in government funding secured for the next four years, as well as having sponsors like Sky, British Cycling cannot use poverty as an excuse for failing to deliver. But with its research suggesting there are 1.1m women who do not cycle now but would like to - and an admirable recent record of hitting its targets - it seems unlikely that it will need to make one.