Lance Armstrong: UCI defends actions after extra positives shown
Last updated on .From the section Cycling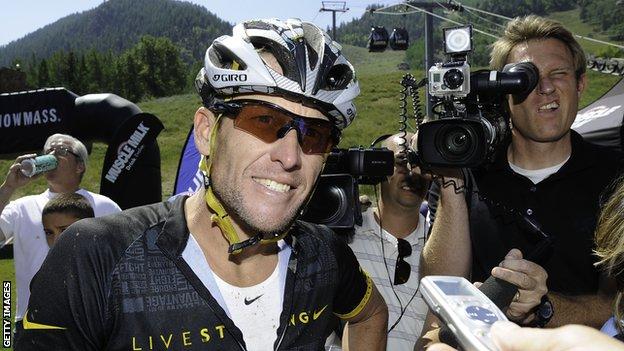 The International Cycling Union (UCI) has defended itself after it confirmed that Lance Armstrong tested positive for corticosteroids four times in 1999.
A backdated medical certificate had previously been used to excuse the one known example of Armstrong's use of the drug in that year's Tour de France.
The body has now confirmed three other cases were actually registered.
"It should be stressed that this was handled knowing only the facts which were apparent at that time," they said.
"For example, the UCI did not know that the medical certificate handed over to Dr [Leon] Schattenberg, a member of UCI's Anti-doping Commission, in July 1999 had been [illegally] post-dated.
"Armstrong only admitted this during his interview with Oprah Winfrey, which was broadcast on 17 January 2013."
The revelation followed the publication in Belgian newspaper Het Nieuwsblad of a leaked UCI memo revealing that a lawyer for the sport's ruling body had said the American's samples from 14 years ago showed more traces of the substance than previously revealed.
At the time, the governing body had accepted that the one publicised positive came from cream used to treat saddle-soreness. This alibi was acknowledged in the Winfrey interview to have come from a falsified medical document.
In January's television interview, the 41-year-old Armstrong confessed to taking performance-enhancing drugs during all seven of his Tour de France wins between 1999 and 2005.
Armstrong was stripped of his seven Tour titles after deciding not to defend doping charges filed against him last August.
Armstrong was charged by the US Anti-Doping Agency (Usada) in June 2012 with using performance-enhancing drugs.
He filed a lawsuit against the organisation the following month, accusing it of "corrupt inducements" to other cyclists to testify against him.
However, Armstrong then announced he would not fight the charges and was given a life ban by Usada.
Armstrong also admitted to Winfrey that he had used banned substance erythropoietin (EPO), a hormone naturally produced by the kidneys which increases endurance.
The nine-page UCI document further explained that no action was taken when re-tests of Armstrong's 1999 samples in 2005 also showed the presence of the blood-boosting agent because there were no B samples to test.
The UCI document read: "As indicated by the laboratory [Chatenay-Malabry in Paris], and later also in the Vrijman report [independent investigation rejected by the World Anti-Doping Agency which cleared Armstrong of doping in 2006], these research results did not constitute valid proof of the presence of EPO under the anti-doping rules.
"Until his public confession in an interview with Oprah Winfrey broadcast on 17 January 2013, Armstrong has always denied that he had ever used EPO."