Sir Chris Hoy: Six-time Olympic gold medallist on his retirement
Last updated on .From the section Cycling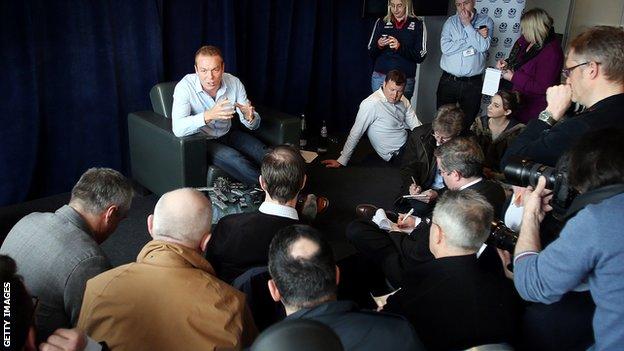 Six-time Olympic gold medallist Sir Chris Hoy announced his retirement from international cycling at an emotional media conference in his home city of Edinburgh on Thursday.
But he has decided now is the time to quit after "getting every ounce of energy and effort" out of his body.
Here is what the Scot had to say on the reasons behind his decision, what the future holds for him and his family, plus his thoughts on where he ranks among Britain's greatest Olympians.
On retiring before Glasgow 2014:
"It was not a decision I took lightly or came to easily but I know it's the right time.
"Nothing would give me more pleasure than going to Glasgow to compete for Scotland in the 2014 Commonwealth Games but I don't want to be there to make up the numbers - I want to be competitive.
"Being objective, I got every last drop out in London. Now it's time to stand aside, let the younger riders come through to shine, and experience what it is like to compete with a home crowd cheering you on.
"I will be there [in Glasgow] to enjoy it and soak up the experience.
"I didn't realise quite how much London took out of me. To go on for another year would be one year too far. I don't want to turn up to wave to the crowd and get a tracksuit.
"I wanted to get a medal for Scotland and because I didn't think I could do that I wanted to step aside and let someone else take my place.
"I raced in January in Rotterdam. It went reasonably well but in sport at the highest level you are dealing in the smallest margins and you can tell when you are good but not good enough.
"The whole injury impact, which became more of an issue in the build-up to London 2012, became more of an issue. It wasn't just a single day where I said 'never again' - it just dawned on me over time.
"I know I have done everything I can and that it would be a mistake to continue.
"I have had my time in the sun. It is time to let other athletes have their share [at Glasgow]. I wanted to be there as much as anybody but I want to win - not turn up as a shadow of myself when someone could come in and it could be the start of their career."
On cycling's transformation:
"I have been in the sport for 19 years and witnessed how the sport has changed out of all recognition.
"It has gone from a minority sport to a major sport and to have been part of the journey has been a massive honour."
On the greatest moment of his career: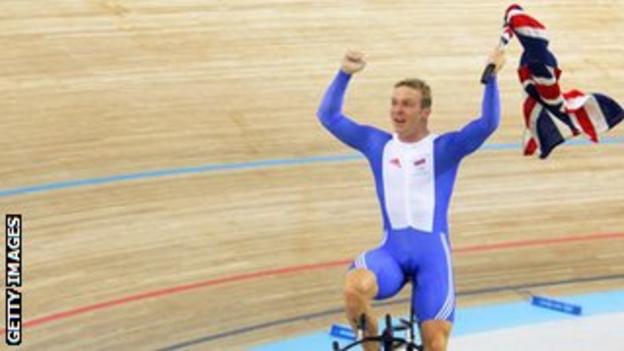 "It's tough to pick one special moment of my career - so I'm going to pick two. Athens - stepping on to the podium, hearing my name and then hearing 'Olympic champion' read out after it.
"To me that was what my career was all about.
"I thought nothing could compare to that but in London, to end my career with my sixth gold medal, in the nature of the keirin which is an unpredictable event, was a really special moment.
"But I could go on all day - I'm fortunate I've got so many great memories and I've had so much fun.
"I still feel the same about the sport. I'm going to cycle for the rest of my life and hope to encourage others to take up the sport."
On his current feelings:
"It is a hard time. It is one moment at the end of your career when you say 'enough is enough'. There is always a temptation to go on - perhaps too long. I'm not frightened of losing, but I feel I can't ask for any more. I've had an amazing career - but this is the end of it.
"It has been hanging over me a little bit. I didn't know how I was going to feel.
"I do feel better having come here [to the media conference]. It has been easier than I thought it would be."
On his future:
"Immediately, the first thing is to step back and let it all sink in.
"Then I will concentrate on being a bid champion for the 2018 Youth Olympics, which Glasgow is bidding for.
"Then there is the 2014 Commonwealth Games where I will be an ambassador and hopefully be a mentor for the Scottish team.
"I'm also going to take up an advisory role with the Scotland Rugby Football Union. It is only a minor role but hopefully I will have an impact. They are interested in my career and how I've approached certain situations.
"I will also focus on charity work for Unicef and the Scotland Association of Mental Health, and carrying on designing my own bikes and building towards launching them."
On family plans:
"I'm looking forward to spending time with my wife Sarra and putting something else other than cycling first.
"People say cycling is a sacrifice. It's not a sacrifice, you choose to do it. But it does take over everything, every decision in your life is based around the sport.
"We don't have any plans to have kids at the moment, but maybe one day.
On Great Britain's greatest Olympian:
"It's interesting, but to describe the greatest is subjective. To me, in my subjective opinion, Sir Steve Redgrave is the greatest and will be the greatest for many years - if not forever.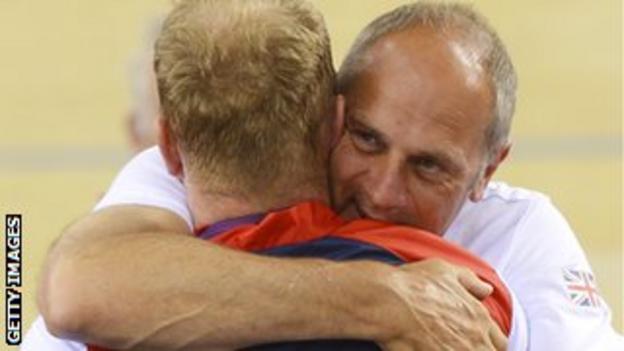 "To keep going for five consecutive Games, at the top of your game, is a far greater achievement than winning multiple medals in one Games.
"The longer your career goes on, the more you understand how much that must have taken out of him.
"On paper I've got more gold medals than Sir Steve, so it's remarkable to be even mentioned in the same sentence as him. He was one of my heroes.
"At the start of my career I never dreamt I would have one gold medal, never mind six.
"I remember winning silver in Sydney 2000 and standing on the podium thinking 'I have to soak it all in because it could be the peak of my career'.
"To win an Olympic medal of any colour was almost unthinkable, so six gold medals later it's something I have to pinch myself about."