Giro d'Italia: Bradley Wiggins's race is far from over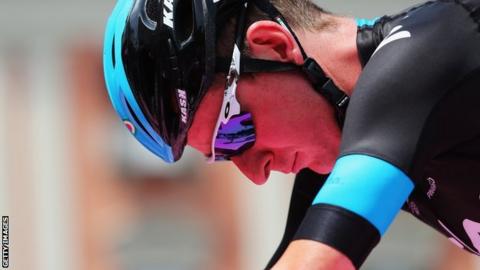 It has been a tremendously exciting opening week to the Giro d'Italia, with British stage winners, crashes and animated racing.
And the racing is only going to get better as the route takes us into the Alps and Dolomites over the next couple of weeks.
It's not like the Tour de France, where the opening week can be a little more predictable; the Giro is not won with one big blow, it's all the small body punches you get over the three weeks.
Monday is the first rest day of this year's race, so it's the perfect time to analyse what's going wrong with Sir Bradley Wiggins, how his rivals are faring and reflect on an otherwise great week for British cycling.
I don't know if there is something wrong with Brad. His team-mate, Dario Cataldo, has been ill, so whether there is something going through the team I don't know. I thought Brad rode well in Saturday's individual time trial.
Overall, he is clearly not in the position he expected to be, however. We haven't over-hyped him, we've followed what he has said about going for the Giro-Tour de France double and we have to take that confidence at face value.
He's not out of this race, which has a long way to go - but he's got to go on the attack, which is not something he is used to doing.
I'm sure most of his problem so far is psychological rather than physical. Brad likes to be in control of what he's doing and if he's not then he's not a happy bunny. You can see it in him.
I dread to think what the ambience is like within the team at the moment and I wonder how much confidence his team-mates have in him. Team Sky need to look at keeping Colombians Rigoberto Uran and Sergio Henao up among the leaders in case Bradley is ill or has another fall. Neither Uran or Henao are likely to win the race but Sky must keep something in reserve.
Bradley's confidence took a bit of a battering with his fall on Friday but he was already losing time before he fell - and falling off is part of bike racing.
But certainly the big factor is the weather: as soon as it rains, he struggles. This wet weather isn't over and it could get worse as we head into the mountains, which still have plenty of snow on them. Race organisers have been using dynamite to blow it off the roads.
This vulnerability is quite unusual for Brad but everyone now knows it and they're taking advantage. All the team cars have televisions in them so they can pass information on to their riders quickly, which is particularly useful when they see a rider struggling. You could see that on Sunday when race leader Vincenzo Nibali's Astana team started riding flat out.
There is plenty of time left for Brad to regain his confidence and there are a couple of mountain stages coming up in the next week where he should do well - but Nibali will be at a point now where he won't care if Brad goes quicker than him up a mountain because he knows he can get that time back on the descent.
So I wonder whether Brad will wait for the mountain time trial in the third week. He is climbing well, as he proved in Saturday's time trial.
As for Nibali, he has had a quiet but hugely effective first week. He's been well protected by his team and his morale will be even higher knowing the pre-race favourite Wiggins is not having a good time.
He will not be resting on his laurels though. Both second-placed Cadel Evans and Robert Gesink in third are looking strong after the opening week and, for all of them, the terrain is so hard that if you have a bad half-hour at any of the key points you can lose everything.
Defending champion Ryder Hesjedal is testament to that after he lost more than a minute on Sunday's final climb, which was not particularly tough, to put him in a difficult spot, more than three minutes behind Nibali.
Despite Brad's troubles, it has still been a great week for British cycling, with Mark Cavendish taking the race leader's pink jersey after and then
He couldn't have done much more because he's only had two nailed-on stage sprints and he's won them both.
The icing on the cake for Cavendish was because they are training partners in Essex and good mates.
Dowsett's ride was fantastic and he would never have dreamed he could win it, but it validated his decision to move from Team Sky to Movistar - not an easy decision for a young British guy who has come up through the British cycling system.