Town Centre Criterium: Greg Mansell retains Jersey title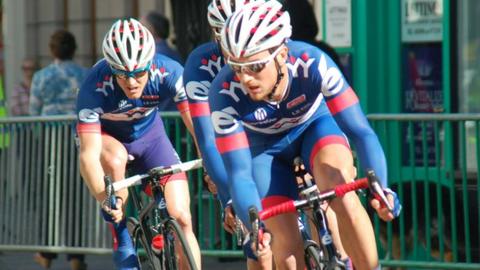 Greg Mansell retained his Jersey Town Centre Criterium title after a race dominated throughout by Team UK Youth.
Mansell and team-mate Yanto Barker broke away early on and were joined by Tobyn Horton and Ian Wilkinson in the leading pack.
Stockport's Hannah Walker clinched the women's race, waiting until the final lap to move in front of long-time leader Ann Bowditch.
The race had been delayed by 20 minutes after a crash in the warm up.
"I didn't want to use too much energy too soon," 20-year-old Walker told BBC Radio Jersey.
"She got a really big gap quite easily and no one chased her down.
"I looked at the time and I thought I better make my move soon. I just gave it my all and we caught her just after the bell lap."
For Mansell, the victory came as part of his preparations for the Island Games in Bermuda later this summer and followed his success in the 2012 event, when he also
"It was fast, it was pedal to the metal all the way through," said Mansell, son of former Formula One driver and team owner Nigel.
"We got away early which we weren't expecting and then when the guys came across it got even quicker.
"The whole island got behind me in the week coming up to the race, it was pressure, but again it's just excitement to be able to deliver for them."