Team Glasgow Life target 2014 Commonwealth Games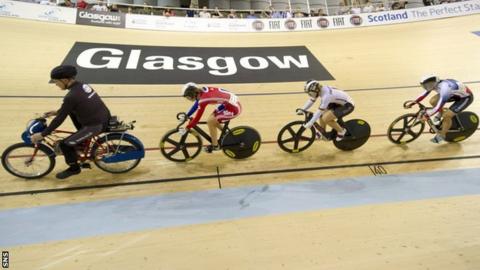 Scotland's newest cycling team hopes to have at least two athletes competing at next year's Commonwealth Games in Glasgow.
Team Glasgow Life will compete at Scottish and UK-wide events.
One member of the team, Johnny Biggin, only converted to sprint cycling from powerlifting in 2012.
"Competing for Britain is one thing but competing for Scotland is not something you get to do regularly so that would be great for me," he told BBC Scotland.
"It would be huge. I just wanted to do well in sport and do it on home ground in a brand new world class arena for Scotland, that would be great.
"It would only be a year-and-a-half I'd be training for the Commonwealth Games so to do it in a short period of time, I'd be really happy with.
"Coming from powerlifting, which has no endurance in it, it's been a tough year getting my base fitness up."
Biggin and his team-mates will train at Glasgow's Sir Chris Hoy Velodrome, whose head coach Kevin Stewart said: "Some of the great riders have started on the road to glory at the Juniors Track World Championships.
"I am sure in years to come some of those who go on to compete at the highest will have made their mark at the Sir Chris Hoy Velodrome."