UCI President Pat McQuaid seeks to continue anti-doping fight
Last updated on .From the section Cycling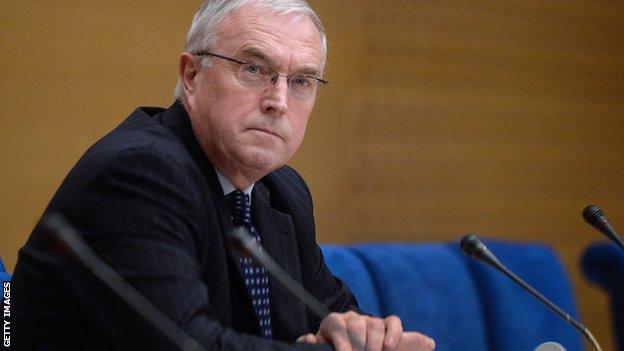 Pat McQuaid has pledged to continue the fight against doping if he is re-elected as president of the International Cycling Union (UCI).
The Irishman, 63, is opposed by head of British Cycling Brian Cookson, who is a member of the UCI management committee.
Cookson has criticised the UCI handling of the Lance Armstrong doping scandal.
"I have introduced the most sophisticated and effective anti-doping infrastructure in world sport to cycling," McQuaid said.
"It is now possible to race and win clean. Our sport is leading the way."
Armstrong was stripped of his seven Tour de France titles and given a lifetime ban by the United States Anti-doping Agency in August last year after admitting that he had used performance-enhancing drugs.
The American was subsequently critical of McQuaid's leadership of the UCI.
In his manifesto for running for the UCI presidency, McQuaid - a former professional cyclist - pledged to:
establish an independent audit of the UCI's actions when Armstrong was winning the Tour de France, from 1999 to 2005

make the UCI's Cycling Anti Doping Foundation more independent and help fund it by increasing the UCI World Tour teams' contributions to anti-doping

set up an independent UCI Women's Commission with responsibility for developing all disciplines of women's cycling

modernise how cycling is presented as a global sport

foster the global development of cycling
"My mission now is to preserve the changed culture within the peloton and team entourage," McQuaid said.
"The UCI now invests over USD 7.5million (£5m) a year to keep our sport clean and to catch and prosecute those riders who refuse to embrace the new culture of clean cycling. The misdeeds of a few should not be allowed to tarnish the reputation of cycling or today's riders."
McQuaid, seeking a third term as president, is being challenged by Cookson in September's elections, which will take place at the UCI World Congress.
Cookson is pledging to establish an independent body to manage anti-doping, develop women's cycling, overhaul road racing and strengthen the sport's credibility at Olympic level if he is elected.