Tour de France: Brave or stupid? The art of the breakaway attempt
Last updated on .From the section Cycling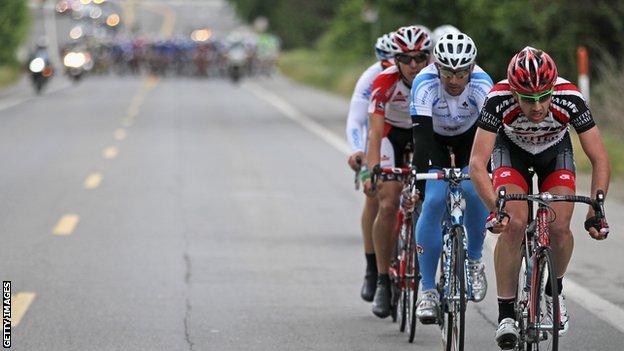 If you have ever seen the end of a Tour de France stage you will probably know what happens to most breakaway attempts, and it is not pretty.
With the peloton looming like a hungry killer whale behind a seal, a small group of riders who have been clear all day are chased and then devoured by the fast-moving main field, often in the last few kilometres.
Successful or not, escapees work much harder than if they just stayed in the pack and almost always get no reward for their extra efforts. It begs the question, 'why bother?'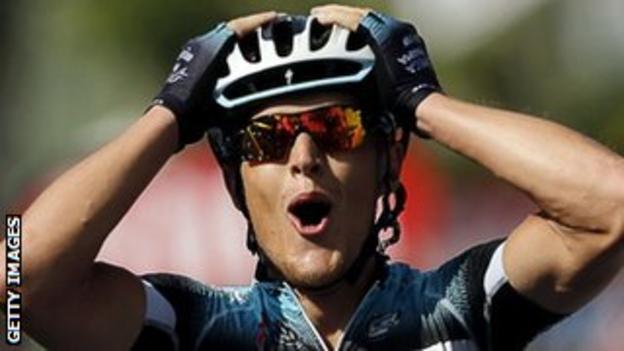 "Nine times out of 10, the long break fails," said Jens Voigt, a veteran competing in his 16th Tour at the age of 41. "It can be bitter or it can be glorious. But you have got to try it 10 times to make it work once."
Voigt, part of cycling legend as much for his many failed breakaway attempts as his successful ones, initiated the only day-long escape to succeed so far in this year's Tour - in Saturday's 14th stage when a larger group made up of 18 riders from 14 of the Tour's 22 teams got clear.
But the veteran German, who was the first rider to break away from the main field when he burst away inside the first 2km of the 191km [118 mile] stage, did not get any glory to go with his Tour stage wins in 2001 and 2006.
He was dropped by his fellow escapees with 15km to go as Italy's Matteo Trentin went on to take a memorable victory, leaving Voigt to plan his next attempt.
Why some riders try a long break
If you are not a specialist climber or sprinter, a contender for overall victory or a member of a team that has one, then a long-distance raid for a stage win offers your only chance of Tour de France success. And it can make a huge difference to the life of your average 'domestique' or support rider.
"My first Tour stage win was an important moment," RadioShack Leopard Trek rider Voigt told BBC Sport.
"I was suddenly a more respected rider. I had proved myself. The next day, I had the top riders like Lance Armstrong and Mario Cipollini coming up to me in the peloton and saying 'hey man, that was nice, you deserved it'. I was like 'wow, how cool is that?'.
"And yes, as a nice side effect, I also raised my salary. That is important because, along with having a passion for the sport, I had to feed my family."
And why some don't
Chris Froome's Team Sky team-mate Geraint Thomas told BBC Sport: "The sole reason I am at the Tour is to support Chris.
"We are rarely in breaks if you have a rider who is a contender for the general classification, because you have got to protect him and control the race.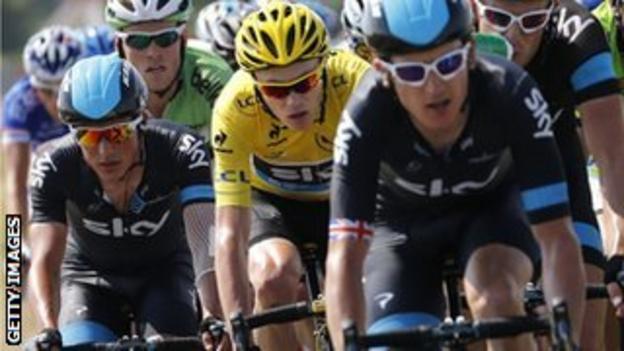 "I could get in a break and go for the stage win but the team could be of the opinion that, although that would be great on that particular day, we are in the Alps in three days' time and they need me to be going well then. So they say 'take it easy today and think ahead'.
That is not an attitude with which everyone agrees.
"There are a lot of teams that just don't want to go in the breaks any more," the FDJR team's sporting director Marc Madiot said in an interview with American magazine Bicycling during the 2012 Tour. "They are not interested because they are riding for the general classification. They want to save themselves. They are not that motivated.
"But if you go to the Tour and you are told that you cannot go in any breaks, that you are just there to work for somebody and that you have the right to do nothing else, wow, you might as well work in a factory."
Making the break
Getting in a breakaway is not only a matter of accelerating off the front of the peloton as soon as the stage starts.
The size of the break matters, as well as who is in it, because both play a factor in its strength and whether it will be allowed to continue.
Riders will not be allowed to get clear if they offer any threat to the general classification, or are contenders for any of the other jerseys.
"For me now, knowing when I can get away in a break is experience but also instinct," explained Voigt. "I sometimes have a vision before it happens - I see it in my mind when I will attack - I go 'yes, that is the moment' and I feel nothing can go wrong."
For Thomas, how he and his team-mates police the escapees differs depending on the profile of the stage.
"On a flat stage, the group that goes will probably be quite small - maybe four or five guys because they know there is going to be a bunch sprint and there is no real point going in the break. Publicity is probably the only reason they bother.
"There are other stages where you know in advance that the break could stay away - these are the ones that people like Tommy Voeckler are in and they are a bit more tricky - everyone wants to be in it.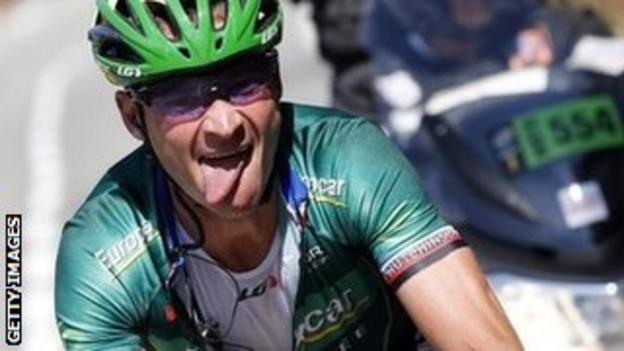 "That's when you are racing for two hours full gas from the start of the stage to make sure the right break goes away, which is what people back home don't really see if they only see the second half of the stage on TV."
That was the scenario at the start of Saturday's stage, when the pace of the main field was kept high - at an average speed of 47.9km/hr (29.8mph). It was the fastest first two hours of any stage of this year's Tour - because Euskaltel and Lampre, two of the teams who did not have anyone in the break, were unsuccessfully trying to prevent it from establishing itself.
Why some breaks work
Saturday was an example of the perfect storm for a breakaway win, especially coming immediately after Friday's thrilling day of racing against crosswinds that had blown the peloton apart, and ahead of a potentially decisive stage in the shape of Sunday's mountain-top finish at Mont Ventoux.
The initial break by Voigt and two other men was not allowed to get more than a minute clear because other teams wanted to get in on the action.
But, after 42km, 14 other riders bridged a small gap to join them, meaning the group was big enough to stay clear when Euskaltel and Lampre tried to peg it back. It now contained enough different teams [14] to ensure nobody else wanted to help with the chase, and was also evenly balanced. Four teams had two riders represented, but nobody had more than that.
The stage's profile was not mountainous but was too hilly for the out-and-out sprinters like Mark Cavendish, so their teams had no interest in chasing down the break to launch Cavendish into a bunch sprint. Quite the opposite in Omega Pharma-QuickStep's case, in fact, because they had a man in the break in the shape of Cavendish's room-mate Trentin, who went on to take the win.
And the break contained nobody who was a threat to Team Sky, Saxo-Tinkoff or Belkin, the three teams contesting the general classification - the highest placed rider was American Andrew Talansky, who began the day 17th overall, 13 minutes and 11 seconds behind Froome.
"On stages like that, we look at the break and look who is the best man in it," added Thomas. "If he is a long way back then we let it go, and nine times out of 10 it does stay away."
Once Euskaltel and Lampre had realised they were not going to catch the break, it was left to Team Sky - as the team of the man in the yellow jersey - to keep things in check.
They brought the peloton in just over seven minutes behind Talansky, without burning any valuable energy by trying to catch him, but always keeping the race under their control.
And why they usually don't
On the flat stages, the sprinters' teams are the ones who take charge.
"If it is mid-Tour, the best guy in the break could be 20-odd minutes down," said Thomas.
"That is perfect for a team like us with a contender to win the general classification - we will let the break take the stage and they can have 15 minutes on us, and the sprinters' teams know it. We don't have to tell them!
"So we kind of let the break go straight away and don't care.
"Basically, the sprinters' teams take control from the start and have guys riding at the front of the peloton. It is sort of a little day off for Team Sky and the other teams going for the general classification."
As Team Sky did on Saturday, the sprinters' team manage the break. They do not want the gap to get too big but, equally, do not want to catch the break too soon.
If they do, other splinter attacks occur in the closing stages that are much harder to catch - that scenario saw Jan Bakelants win stage two.
Most of the time, however, the hunters get it right. And the hunted men up front usually know when the game is up - not that they ever throw in the towel.
"I normally know a long time before I am actually caught whether I am going to make it or not," added Voigt. "Generally speaking, the peloton takes back a minute per 10km back when it starts chasing the break.
"So, using that rule, most of the time you basically know you have got no chance.
"But did that ever stop me? No way! I always think 'Jensie, you have been out there for 150km, why should you just give up?'.