Chris Froome: Tour de France leader agrees new Team Sky deal
Last updated on .From the section Cycling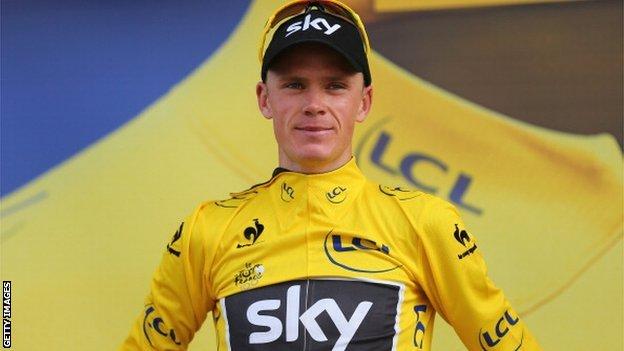 Tour de France leader Chris Froome has agreed a new contract with Team Sky until the end of the 2016 season.
The 28-year-old Kenya-born Briton has been with Team Sky since its inception for the 2010 season.
Froome's current deal runs out in 2014, but fiancee and manager Michelle Cound told BBC Sport: "There's an agreement and they are just working on finalising some details at the moment.
"It should be announced in the next week or two he'll be extending."
The new deal would replace the terms of the final year of his current contract and extend it for two further seasons.
Froome, who was second in the 2012 Tour behind team-mate and fellow Briton Sir Bradley Wiggins, leads the 100th edition of the Tour by four minutes 34 seconds after winning stage 17 on Wednesday.
Meanwhile, the Professional Cyclists' Association (CPA) has issued a statement in support of Froome and his fellow riders against unsubstantiated doping rumours.
Froome has voiced his frustration at continued questions about doping, and Team Sky boss Sir Dave Brailsford is prepared to give the World Anti-Doping Agency (Wada) all of his team's data in an attempt to allay suspicions.
"It's not fair to blame someone without evidence against him and we demand more respect for Chris and for all the riders," said CPA president Gianni Bugno.
"We are witnessing a daily attack against the dignity of the riders in a manner that can no longer be tolerated.
"The CPA, who has always supported the importance of the fight against doping, condemn, however, the fury of media and institutions which over the years has often led to the association that cycling equals doping."
The CPA added professional riders were "the most controlled athletes in the world" and "too often portrayed as dishonest".