Island Games 2013: Guernsey add to cycling medal haul
Last updated on .From the section Cycling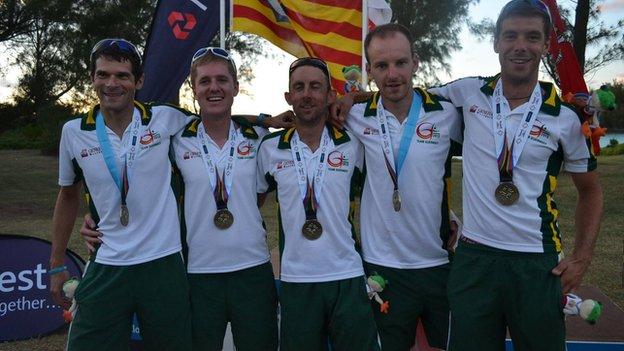 Guernsey's cyclists continued their dominance at the 2013 Island Games after taking team gold in the mountain bike cross country event in Bermuda.
Rob Smart's hopes for an individual medal were dashed when he suffered a puncture and eventually finished ninth.
But Danny Shaw, Mike Serafin and James Roe came in fourth, fifth and sixth, and with Andy Colver in eighth, the team secured overall victory.
It was Guernsey's fifth cycling gold, together with two silvers and a bronze.
Guernsey's other gold medals came in the men's individual and team road race, and the women's individual and team time trial and they now cannot be caught at the top of the cycling standings.
"It's the second year we've done this and I think that's because we're one full unit, not just the girls and the boys or the road and the mountain biking," said Guernsey's cycling team manager Paul Brehaut.
"It all comes under one big umbrella. Everyone's there in the blazing sun, supporting each other - it's a great privilege to be part of it."
Shaw said the joy of collecting team gold made up for the disappointment of narrowly missing out on his own medal.
"I was a bit disappointed not to get third place but I'm almost more happy to get team gold as that what we've been training for all winter," he told BBC Radio Guernsey.
"It was really hot today but we've got used to it. I like to pull it out of the bag every now and again to show the boys I've still got the legs!"