Tour de France: Chris Froome's data offered to Wada by Brailsford
Last updated on .From the section Cycling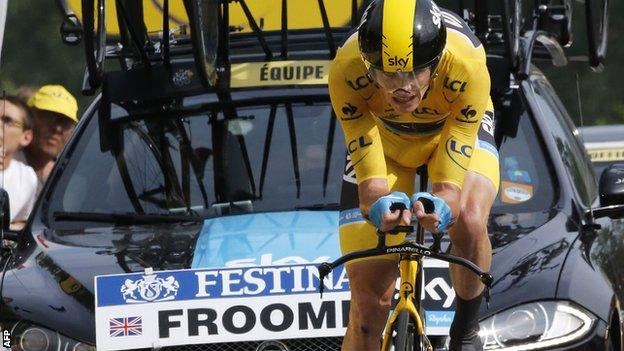 Team Sky principal Sir Dave Brailsford has written to the World Anti-Doping Agency (Wada) to offer full details of Chris Froome's performances.
"I've told Wada 'we'd like to give you everything'," said Brailsford.
Sky gave L'Equipe their data and the French paper found no abnormalities.
Froome, who led the Tour heading into Thursday's 18th stage by four minutes 34 seconds, admitted this week he was saddened by constant doping questions, and Brailsford is determined to prove Froome is a drug-free rider.
"I don't know what the process is because we have never done this before but we are trying to react to a situation, trying to think creatively about a situation," Brailsford said, after also confirming Sky have offered the performance data to Ukad (UK Anti-Doping agency).
"Nobody asked me to do this. I suggested it would be a good idea to contact them, they didn't contact me.
"I could stand here and just say: 'We've not failed any drug tests.' You've heard it all before. It's not going to get us anywhere. There is no point in going down that line. We need to be more creative."
L'Equipe refrained from publishing the performance data on Froome's 18 climbs over the last two years at Team Sky's request, but confirmed it had been analysed by Frederic Grappe, a cycling coach who is also a researcher in sports science.
Grappe said that there is nothing abnormal about Froome's performances, after looking into various details, including power data which he suggested is coherent with the Kenyan-born Briton's profile and consistent with that of a rider who is clean of drugs.
Froome has been tested 19 times during this Tour and 29 times in total this season.