Tour de France: Chris Froome's rocky road to glory in Paris
Last updated on .From the section Cycling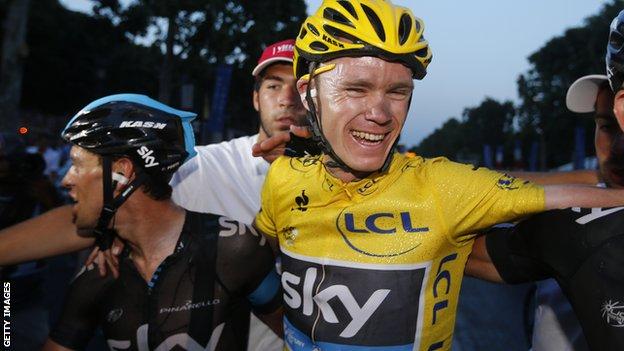 A long slog in the saddle is quite simply the only way for a professional cyclist to make it to the summit of his sport, but Chris Froome's journey to becoming the new Tour de France winner followed a rockier route than most.
Born in Kenya to English parents in 1985, Froome's ride to the podium in Paris began when he sold avocados from the back of his BMX in Nairobi 17 years ago.
It continued as a teenage mountain-bike nut on the dust tracks of the Kenyan highlands and, after an initial struggle to make it on the roads in Europe, when he grew his own bean sprouts in an attempt to gain a nutritional advantage, the more exact science of Team Sky has helped him gain the ultimate glory in France.
Froome's passport is pretty much the only thing he has in common with Bradley Wiggins, who made history as Britain's first Tour winner last year, but in the race's 100th edition his victory is also a landmark - a first victory for an African-born cyclist.
At 28, there is plenty of time for him to achieve even more. And he has the kind of character that will demand it.
Throughout his life, Froome has showed the same iron will and relentless determination to succeed that has helped him through the high mountains of the Alps and Pyrenees over the past few weeks and triumph in the toughest and most famous bike race in the world.
He only watched his first Tour de France on TV at the age of 17 and turned professional at the relatively old age of 22 but is now enjoying the fruit of his labours.
As his fiancee Michelle Cound told BBC Sport: "People are saying Chris has come from nowhere but it has taken him more than 10 years to become an overnight success."
Dreaming of Le Tour
"He was a very thin boy, nothing special," remembers David Kinjah, the man who introduced Froome to road cycling in the Kikuyu township when the future champion was 11.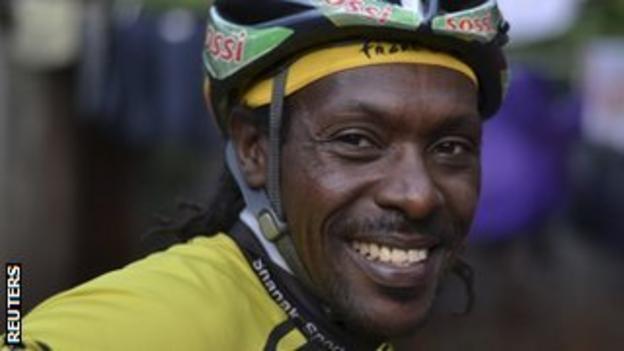 "But he was not the kind of guy you could tell 'this is enough, stop it'. He always wanted to go further. He wanted to discover his own world."
Froome's first bike was borrowed from his primary school teacher and too big for him to reach the pedals properly.
He also used Kinjah's cycling shoes when he was competing for his first team, the Safari Simbaz (Swahili for 'Travelling Lions'), because his feet were the same size.
His love affair with the sport began in Kinjah's village of Mai-I-Hii while he was being brought up by his mother Jane in the servant quarters of a wealthy Nairobi suburb.
But his competitive streak only truly emerged when he moved to South Africa to live with his father Clive, a former England Under-19 hockey player, to continue his education when he was 15 in 1999.
It was there he honed his fanatical training regime and he had reached national standard on the road by the time he went to the University of Johannesburg to start an economics degree. That got in the way of his cycling so, against the wishes of his parents, he dropped out after two years to pursue his dream at a global level.
Things did not always go to plan. Riding for Kenya in the 2006 Under-23 World Time Trial Championships in Austria after hacking the official federation's email account so he could enter himself, he arrived at the event on his own as rider, team manager and mechanic, rolled down the start ramp... and crashed into an official on the first corner. Even so, he still finished 36th.
"He was always the guy who wanted to get across to Europe and do the Grand Tours like the Tour de France," Cound told BBC Sport. "A lot of the people he was competing against thought it was a pipe dream but he always thought he could make it."
Froome was proved correct but sadly his mother did not live to see his dreams realised. She died in 2008, just weeks before he took part in his first Tour de France for Italian team Barloworld.
By then he was competing under the Union flag. Froome did not even visit the UK until he competed in the 2007 Tour of Britain but says he has "always felt British" - he has a Welsh grandmother and his family moved to Africa from Gloucestershire.
Kinjah disagrees. "He is very much a Kenyan - he had to be English because of his sport but if he had a choice, he would have stayed in Kenya."
His big break, and then the big breakthrough
There was little fanfare when Froome was signed by Team Sky for their launch ahead of the 2010 season - that was reserved for Wiggins.
Froome remembers being described by his new outfit's management as a "rough diamond, in need of shaping and polishing" but he knew this was his big opportunity.
"When we went on our first date in 2009, he was about to join Team Sky and was telling me how excited he was," Cound said. "He was saying how they had Jaguars for team cars, which to him was incredible. The team's resources and the scientific support he got was incredibly different to what he was used to.
"Chris was always trying to improve his nutrition while he was at Barloworld because they were not really interested. He used to grow his own bean sprouts because he had read they were good for recovery, and he would try all sorts of things.
"Then when he joined Sky, he obviously got fantastic support. The training set-up, equipment and feedback he would get was the very best. He realised what could happen if they put their weight behind him."
Even so, the results did not initially match expectations. It took 18 months before doctors found out why, as he was eventually diagnosed with the water-borne parasitic disease bilharzia, which he had picked up in Africa.
It was only when it was treated - by taking biltricide, effectively a poison - that his displays began to improve, most notably at the 2011 Vuelta a Espana (or Tour of Spain) where he finished second overall in what Team Sky supremo Dave Brailsford described as a "breakthrough performance".
For the first time, it gave Froome the belief he could win the Tour de France. "I realised I belonged in this group of riders at the top of the general classification," he said.
Before knowing about Froome's illness, Brailsford had previously been left puzzled by his inconsistency. Afterwards, he realised he had a potential Grand Tour winner on his hands.
Could he have slipped through their fingers otherwise? Possibly. Jens Voigt, the veteran German rider who raced in his 16th Tour de France this year, feels Sky's obsession with statistics will have helped them spot Froome's ability as soon as he came on board.
Voigt told BBC Sport: 'When I started as a professional in 1998, teams used some scientific methods, but back then talented riders, or even super-talented riders, would have passed by undiscovered because nobody would look closely at their data.
"Fifteen years ago, people might have looked at Chris and said 'huh, he is not a winner, he is OK but he is just a domestique (support rider). These day, though, you can spot a potential winner because you have got the scientific data to look at."
"With people like Chris they can say 'well, he has not won a race this year, but just look at the power-to-weight he is producing in training. Maybe he just needs a little bit more guidance of where to be at a crucial point of the races.'"
Stepping out of the shadows
Froome put his illness and injury problems behind him in time to become Wiggins's chief lieutenant at the 2012 Tour de France, and his key team-mate in the mountains.
He eventually finished second but his shows of strength on the steepest climbs suggested he could have won the race himself and also led people to question his loyalty, Wiggins's wife Cath among them.
This year, Froome has not just stepped out of Wiggins's shadow, he has eclipsed him. The champion withdrew from the Tour, unable to defend his title because of illness and injury, but Froome had already been named as team leader.
Cound, who insists her fiance did not attack his team leader last year, added: "There were times when he was a bit frustrated in 2012 but in the end it was all part of the process.
"You cannot just join a team and assume leadership because you are doing well, but he knew he would get his chance - and he has taken it."
And how. In contrast to Wiggins's more measured approach of winning time trials and sticking with his rivals when the race went uphill, Froome has taken the Tour by the scruff of its neck.
Another member of Team Sky's squad, Geraint Thomas, says the two men are very different characters to ride alongside too, explaining: "Brad wears his heart on his sleeve a lot of the time during races and depending on how he is feeling that comes across in his emotions.
"If he has a good day he is a good laugh but if he has a bit of a bad day he can be quite quiet and not speak too much at the dinner table. "If Brad has a bad day, you can definitely tell. I have not had a bad day with Chris yet."
"He's definitely changed as a leader," said Ian Stannard when asked about how Froome has developed over the past few weeks.
"He takes on more responsibility. He knows what he wants and he knows how to get it out of us. He really lifted his game."
But powerful displays such as his epic mountain-top win at the top of Mont Ventoux have brought other problems - continued questioning by the world's media over whether his dominance is because he is doping.
Even Team Sky's unprecedented decision to release training data showing Froome's power output on his bike has not stopped the accusations, but there has also been recognition of his achievements. It is starting to sink in for Froome now too.
"I can't believe this, it is amazing," he said after sealing his victory on the top of Mont Semnoz in the penultimate stage. "The way I started, riding on a little mountain bike in Kenya and now to be here, winning the biggest event of the cycling calendar, it's difficult for me to put into words. It's really been an amazing journey."
It will not stop in Paris, either. He is young enough and good enough to be a multiple Tour winner and has already spoken about trying to dominate the race for the next six or seven years. The biggest question for Froome now is 'what happens next?'