Tour de France 2013: Geraint Thomas on celebrating in Paris

By Geraint Thomas
Double Olympic pursuit champion and Team Sky rider
Last updated on .From the section Cycling97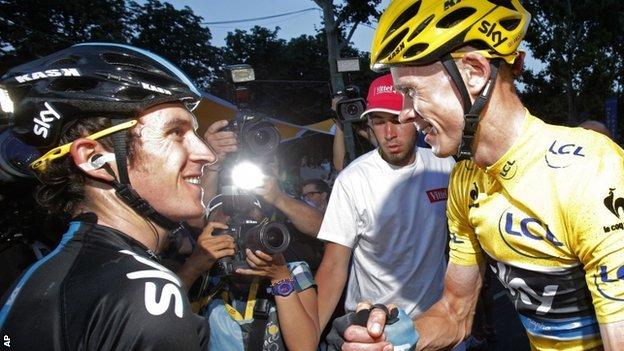 Britain's Olympic track champion Geraint Thomas looks back on fellow Team Sky cyclist Chris Froome's Tour de France victory and describes what it was like riding the whole Tour with a fractured pelvis.
After what happened in Corsica, when I fractured my pelvis on the first stage, it was so satisfying to make it to Paris and finish the race off with the team. What a great way to end a pretty tough few weeks. It definitely made riding through all the pain worth it.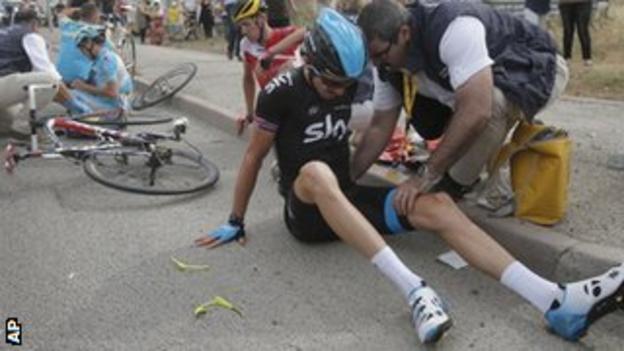 My hip is a lot better now actually. I felt like I could get out of the saddle and accelerate by the end of the Tour and I felt like I could do a decent job. I was just starting to feel like I could climb OK too, which was good.
That said, the pain was still there as I rode down the Champs Elysees and my legs were feeling it, too. It was a real hard day because mentally, you're up for three big days in the Alps and then your intensity drops a bit.
It's a long day travelling to Paris with the flight and then the bus trip. It was tough, but having the yellow jersey with Froome was brilliant. I took a massive buzz off that. The crowd was unbelievable as well.
There were so many Welsh and British flags out there, cheering for you. It's strange how you can pick out the Welsh and British accents in all the noise. You can still hear them come through somehow. The support and the buzz was just awesome.
I missed the Tour last year to focus on the Olympics. I did want to be there, but I don't regret not going. If anything, it gave me that bit extra, even with the injury, to just keep going and give my best for the team.
Sticking together
The day before the last stage, Froome said he thought it would be quite good if we crossed the line arm-in-arm. We didn't get to do the lap of honour as the stage finished late, so for all of us to do that was nice.
It's difficult to pick out one particular stage where I think the Tour was won. It was down to a real team effort. We lost a few guys early on, but we bounced back from that.
We were strong as a unit the whole way through even with the criticism we got at times. It brought us close together. It was great to go out there and prove a point as a team.
I just want to forget about that whole weekend in Corsica though. It was tough crashing on the opening stage. The second and third days were then by far the hardest days I've had on a bike.
The team time-trial on stage four in Nice was a good day because I was nervous before that. I didn't think I'd be able to do it with the injury so to get through and pull a few turns at the front was a massive boost to morale.
The aftermath
We had a fair few drinks after the race in Paris on Sunday. The team organised an area in the hotel bar. We had some food, chilled out and generally had a laugh. We then went on to a club and just kept drinking.
I left around 05:00 BST which I was quite pleased with. Usually I'm a bit of a lightweight, pass out and am in bed by 11. So I did alright. I was a bit too sore to make it onto the dance floor and I can't really remember much of who was doing what.
After a few hours' sleep, I flew back to Monaco on Monday and headed straight for the supermarket to restock. The basket was full of fruit and vegetables and I'm trying to detox after Sunday night's celebrations.
The next challenge
The plan for the next few weeks is to just chill out and be normal for a bit. I'll hang out with my girlfriend and a few of my mates are coming over to visit next week.
I'm off to see a doctor today to get another MRI scan done and check the injury, but all should be good. I've then got two weeks completely off the bike to really heal properly. I'll be itching to get on the saddle then.
I'm down for the team time trial at the Road World Championships in September and then Road World Tour races in Hamburg and Montreal, so it's not a heavy programme.
But I'm just looking forward to the last part of the season. Because even though the Tour went really well, and I was feeling pretty good by the end, I didn't get to do what I wanted to do going in there, so I still feel like I've got a few more races in me.