Women's Tour de France in huge step - Chrissie Wellington
By Chris Osborne
BBC Sport
Last updated on .From the section Cycling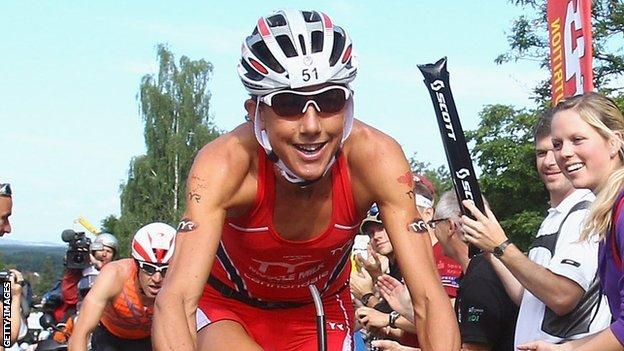 Ironman legend Chrissie Wellington says the prospect of a women's Tour de France has made "massive progress" after Tour organisers said they were open to the idea.
The Amaury Sport Organisation has confirmed it will discuss the proposal.
"We're really excited about that. We are excited about the prospect of feeding into the discussions and the process," Wellington told BBC Sport.
"That's a huge step forward and it's massive progress."
Labour deputy leader Harriet Harman has written to Tour de France director Christian Prudhomme calling for a women's race at the event.
The Tour de France Feminin has existed in numerous guises, being held on and off since 1984, with its last appearance coming in 2009.
Four-time ironman world champion Wellington, from Norfolk, Olympic medal-winning cyclists Emma Pooley and Marianne Vos and cyclist-turned-filmmaker Kathryn Bertine
Jean-Etienne Amaury, chairman of the family-owned ASO, told Bloomberg: "We need to work out the right economic model, get the media on board and discuss with public authorities about closing the roads.
"All these parameters need to be planned. It's not likely to happen next year."
the 36-year-old who dominated the arena of long-form triathlon during her five-year professional career, has been a long-time campaigner for raising the profile of women's sports.
And she believes the return of the women's Tour, which would run alongside the men's event, is a necessity for female cycling.
"I think some people have misconstrued it as us lobbying for equal prize money, and while that would be a fantastic long-term goal, the short-term goal would be to have a race in 2014," she said.
"I believe the Olympics has shown an appetite across the board for women's cycling.
"It makes excellent commercial sense for those who have commercial imperative. It's a win-win situation for the organisers, the media, the public and people at the grassroots who really need to see female cyclists performing on the world stage."
Detractors suggest the women's division does not have enough strength in depth to sustain a competitive, engaging Tour.
British track Olympic champion Laura Trott made that point herself this week.
And Wellington said: "It's true that the international women's field has slightly less competitors than the men's peloton.
"But we have to remember it's not down to a lack of female strength or ability, it's mainly because most women can't make a living from cycling.
"There are solutions. Maybe for the first few years a smaller, selective field is needed. We'll have time limits for the stages, so if the gaps get too big riders will be pulled out.
"Of course there are question marks. But we need to aim high and work with the ASO and the UCI [International Cycling Union] to find a solution.
"I've heard arguments that the women's race will be a sideshow. My response to that is a sideshow is better than no show at all."