Tour de France: Chief criticises Harman women's race request
Last updated on .From the section Cycling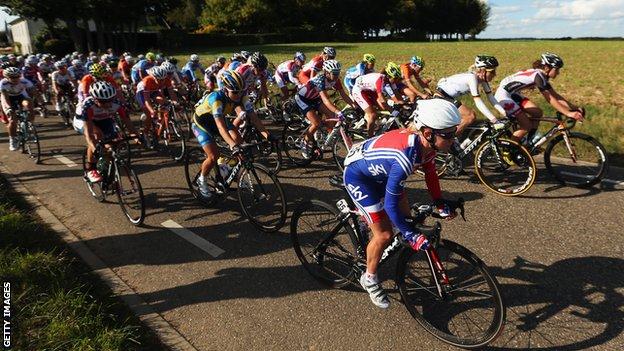 Tour de France chief Christian Prudhomme has criticised Labour deputy leader Harriet Harman for writing an open letter to him requesting a women's edition added on to next year's race.
The minister's letter was backed by a 70,000-strong petition.
"It would have been better for Harman to talk to us at the end of one of the stages or after another race," he said.
"The Tour is huge and you cannot have it bigger and bigger and bigger down the road - it is impossible."
The Frenchman added: "We are open to everything. Having women's races is very important for sure."
The organiser of the petition was former world champion and Olympic silver medallist Emma Pooley, who won the Grande Boucle, widely regarded as the closest thing to a women's Tour, when it was last staged in 2009.
Next year's men's race begins in Yorkshire, and Harman said having a women's event would "set an example to the rest of Europe and Le Tour".
"After the success of the Olympics, women's cycling should not be allowed to slip back into the shadows," Harman had written in her letter.
"Britain has some of the best women cyclists in the world - but for years they had to compete for foreign teams as there was no investment in an elite women's team.
"The Grand Depart being held in Yorkshire and from Cambridge to London in 2014 presents a great opportunity to hold a women's event and set an example to the rest of Europe and Le Tour."
Meanwhile, Prudhomme added he was looking forward to seeing UK sprinter Mark Cavendish win his first yellow jersey in England.
"I can imagine for him this first stage of 2014 is the most important sprint of his life," he said of the first stage which will start in Leeds and finish in Harrogate.
"A win in Yorkshire, at his mother's place, for a yellow jersey. It would be his first yellow jersey.
"From the first day in Yorkshire in 2014 everything will be very important."
And Prudhomme hinted that the race may return to the United Kingdom in future years.
"The future of cycling speaks English - and I am a Frenchman saying that," he added.
"We had three bids and Yorkshire won, and we still have a bid from Scotland. There is a huge passion for cycling in the United Kingdom and it is very important to keep the passion here - very, very important."