Lance Armstrong says government overlooked drug allegations
Last updated on .From the section Cycling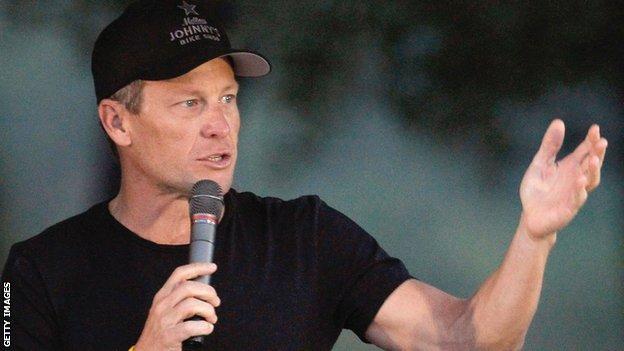 Cyclist Lance Armstrong has called for a federal lawsuit by the US government against him to be dismissed.
However, Armstrong, who was stripped of the titles last year and admitted doping this year, has questioned the government's motives after claiming it overlooked allegations of drug-taking at the time because his team were sponsored by the US Postal Service.
"Although the government now pretends to be aggrieved by these allegations, its actions at the time are far more telling," Armstrong's motion states.
Armstrong, who was riding for the US Postal Service team at the time relating to the lawsuit, ended years of denial in January during an interview with chat show host Oprah Winfrey in which he described doping as part of the process of winning the Tour.
The Texan rider asked an American judge to dismiss the justice False Claims Act lawsuit on Tuesday.
"Did it suspend the team pending an investigation? Did it refer the matter to its phalanx of lawyers and investigators at the Department of Justice for review? It did not," his motion continued.
"Rather than exercise its right to terminate the sponsorship agreement, it instead renewed its contract to sponsor the team.
"The rationale behind the government's decision is obvious. Armstrong had recently won the 2000 Tour de France. The government wanted a winner and all the publicity, exposure, and acclaim that goes along with being his sponsor. It got exactly what it bargained for."
Armstrong has also argued that the government's case is too old to move forward because it is barred by the six-year statute of limitations.
The American rider, who won the Tour a record seven times between 1999 and 2005, was last year exposed as a serial drug user in a US Anti-Doping Agency (USADA) report that plunged cycling into crisis.
The cancer survivor, who insisted for years that he did not take performance-enhancing drugs, was stripped of his Tour titles and banned from the sport for life.