GB Olympian Dani King wants women's Tour de France
Last updated on .From the section Cycling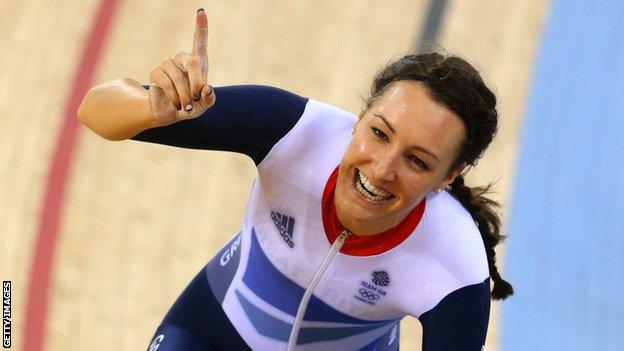 Great Britain's Olympic gold medal-winning cyclist Dani King has joined calls for the reintroduction of a women's Tour de France.
And Tour organisers have said they are open to the idea.
"I don't see why there shouldn't be one," King told BBC Radio Solent.
Hampshire's King, who won gold at the 2012 Olympics in the women's team pursuit added: "If there is one for the men, then why can't we have one?
"The Olympic road race proved that women's road racing can be really exciting and competitive.
"I would love to compete in one and have the challenge."
The Tour de France Feminin has existed in numerous guises, being held on and off since 1984, with its last appearance coming in 2009.
Double Olympic gold medallist Laura Trott supports the return of a women's Tour de France but thinks a campaign to reinstate it must be rethought.
GB cyclist Pooley believes the Tour should be held over the same distance as the men, but Trott feels this is too far.
"I agree with Laura that the same distance as men is too far, the racing will just become a lot less competitive," added King from Southampton.
"So I think they should be run over shorter stages.
"I have so many people asking me why there isn't a women's Tour de France and I don't really have an answer for them.
"The success of Bradley Wiggins and Chris Froome has been absolutely incredible for British sport and cycling. They got so much support that it shows if there was a women's race it would be really well supported.
"I'd have it alongside the men's race, on the same route and finish line, but over a shorter distance."