London 2012 mountain bike track to open to public
Last updated on .From the section Cycling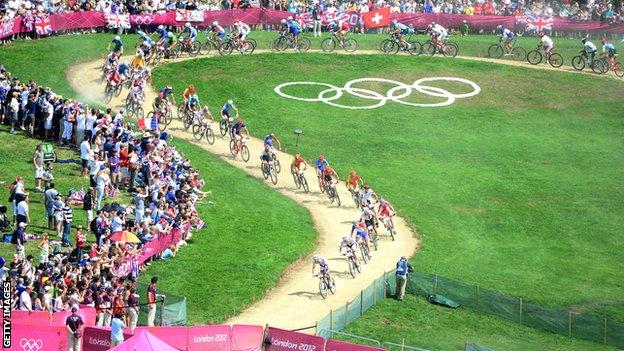 Finances have been secured to make the London 2012 mountain bike track in Essex a publicly accessible venue.
A third of people said the Olympics had a positive impact on sports facilities.
But it has taken 12 months to confirm
"I imagine it would have been frustrating for some members of the public," Rob Anderson, Hadleigh Farm legacy project manager at Essex County Council, told BBC Look East.
"I'm pleased to say now we have the funding so we can get on site and start work.
"We want people here to have fun. It's a gruelling Olympic mountain bike venue and at the moment it's not fun for people just starting out."
Since hosting the mountain bike cross-country competitions for last year's Olympics, use of the course has been restricted to five events and coaching sessions for the Hadleigh Mountain Bike Club.
Planning permission was only initially granted for the period of the Games, but the county council can now turn the venue into a track suitable for beginners and families.
A total of £6.8m - mostly from the council, but with £2m from external investment - will be spent on the legacy project.
The money will be used to adapt the course, but will also go towards creating one of Essex's biggest conservation areas and building a visitor and education centre.
However, club coach Jeremy Vince believes the course has already had a positive affect on mountain bike participation in the area.
"There wasn't a club before the games. Part of the legacy is that it has coordinated all the local riders into forming a club," he said.
"We have a place to be part of and riders who didn't know each other are part of a club of 80 members.
"We want to develop young riders. Hadleigh gives us a base to do that - to help get children into competitive cycling and help grow the sport.
"It's one part of British cycling where there is a weakness. We're doing fantastic on the road, fantastic in the velodrome, BMX is growing all the time, but cross country mountain biking we're not famed for. We want to see more riders come through."