Women's Tour of Britain cycle race to be staged in 2014
Last updated on .From the section Cycling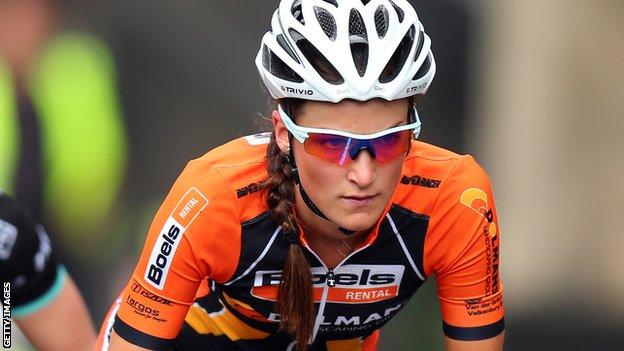 A women's version of the Tour of Britain has been given the go-ahead for 2014.
The race will be staged over five days in May, which is separate to the men's event held in September.
Head of British Cycling Brian Cookson said: "It will be the first step in having a full equivalent Tour of Britain as it develops."
He also said the reinstatement of a Tour de France for women should be explored.
British Olympian and former world time trial champion Emma Pooley has started a petition with other high profile female cyclists, which has collected nearly 80,000 signatures, urging women to be allowed to compete in the world's most famous cycle race.
There have been a number of versions of the race over the years but the women's equivalent finally ended in 2009 because of a lack of sponsorship and media coverage.
Cookson, who is vying for the presidency of cycling's world governing body, the UCI, against current incumbent Pat McQuaid, said he was organising a meeting with ASO, the Tour de France owners, Pooley, Olympic road race champion Marianne Vos and Tracey Gaudry, a member of the UCI's management committee.
"Undoubtedly having a female equivalent of the biggest bike race in the world is an objective we should need to explore," he added.
"It is vital that we work as a group and tap into the wealth of knowhow of people like Tracey who as a pro rider rode three editions of the Tour Feminin [the female equivalent of the Tour de France].
"We know that some previous attempts to simply replicate men's events and men's teams have been problematic and failed, so it is vital that we learn from the past."
However, the head of British Cycling does not predict there will be a fully equal Tour de France for more than a decade.
"The specific challenges of the Tour de France, as it's run at the moment for men, are very, very difficult," he told BBC Sport.
"I'm not sure if a women's event of exactly that nature will be feasible in the next 10 years, 20 - I don't know.
"What I do think can be made to happen is a women's Tour de France with a format - distances, degree of difficulty - that is attainable by a substantial number of women, enough to make it a genuine sporting spectacle."
Cookson believes the Tour of Britain will be a great platform to re-live the excitement of the Olympic road race, in which Lizzie Armitstead won Britain's first London 2012 medal, as well as showcasing women's cycling.
"There's been a lot of attention recently on the need to develop women's cycling at all levels of the sport. People are passionate about the issue and are rightly frustrated that not enough is being done," he said.
"I'm pleased to be able to confirm that there will now be a five-day international stage race for women in Britain in 2014. The event will be separate from the men's race, but it will be promoted to a high standard and will, I'm sure, be the first step in having a full equivalent Tour of Britain as it develops."
Pooley wants women cyclists to ride over the same distances and on the same days as the men's race but Cookson has already said he believed this was unrealistic, saying "modified distances, modified number of days" would be more appropriate.
"Cycling has a long way to go to ensure women's cycling is given an equal stage to the men's events. We won't get there tomorrow, nor next week, but what riders like Marianne and Emma have achieved shows us the potential there is given the right focus, investment and, crucially, leadership by the UCI."
This year's Tour of Britain, which is set to feature 2012 Tour de France champion Bradley Wiggins and sprinter Mark Cavendish, starts in Peebles, Scotland, on 15 September.
On the final day, for the first time, a women's race will take place in London to run alongside the men's stage.