Inaugural London cycle race 'does not fulfil Olympic legacy'
Last updated on .From the section Cycling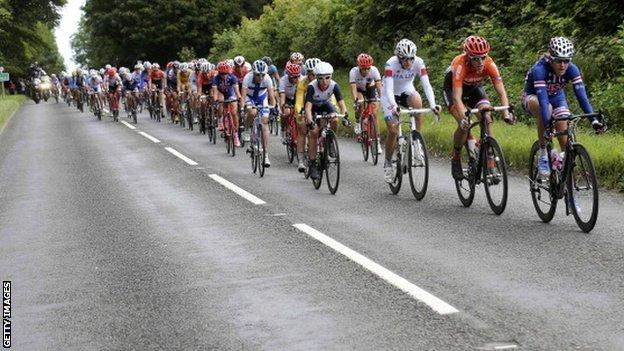 Some of the world's best cyclists will take to the roads of London this weekend for the inaugural RideLondon.
But a leading female cyclist has been critical of the organisers' decision to host an elite men's road race but not an equivalent for women.
"It doesn't fulfil the Olympic legacy," said Britain's Helen Wyman, the European cyclo-cross champion.
Organisers said it was "logistically impossible" to hold two elite road races in the first year of the event.
But they added the schedule would be reviewed after a post-event debrief this year "to ascertain how we can grow the event further and ensure we make this the world's greatest cycling festival".
Rather than a road race, women will have a criterium on Saturday (at 18:30 BST) - one of four events which form the two-day cycling festival, which forms part of London's Olympic legacy.
Around 100 female riders, including Olympians Laura Trott, Dani King and Jo Rowsell, as well as Wyman, will compete on a special 1.3-mile street circuit, known as a criterium, around Buckingham Palace and St James's Park.
The men will be in action on Sunday, in the 140-mile Surrey Classic (12:45 BST), which will feature around 150 of the world's top male cyclists.
Slovakia's Peter Sagan, who beat Mark Cavendish to win the green jersey for the points classification at the Tour de France, will take part, as will British veteran rider David Millar.
The festival opens with an eight-mile ride through central London, where roads will be closed for up to 50,000 people to take part.
Then on Sunday, around 20,000 amateur cyclists - including celebrities such as three-time Wimbledon champion Boris Becker - will take part in a 100-mile challenge from Surrey to the capital.
Speaking to BBC Sport, Wyman, 32, added: "It's unfortunate, it's a shame that they have a criterium (a short circular race) for the women but a really impressive road race for the men.
"Cycling became really big in the last two or three years because of what Bradley Wiggins and Lizzie Armitstead have done. People who are new to the sport don't see inequalities so why enforce these inequalities by not treating men and women as equal?
"It's reinforcing the idea that women's cycling is not really a professional sport when it genuinely is. It's really sad."
Event director, Hugh Brasher, said: "The logistics and challenge of putting on the largest inaugural mass participation cycling event in the world has been huge. The complexities of getting 20,000 riders around a 100-mile course that four-and-a-half hours later has a UCI ranked professional race chasing them down, means that without even further road closures it would be logistically impossible to fit in another race.
"This is the first year of the event and we believe that have made an excellent start. More than 23% of the riders in the Prudential RideLondon-Surrey 100 are women. That is the highest percentage of women riders in a [sporting event] of this nature ever.
"The elite women's criterium race is the greatest field of its kind ever to race in the UK and we have 14 world champions, four Olympic and five Paralympic champions competing over the weekend."
Last month, a number of female cyclists signed a petition, which currently has more than 70,000 signatures, to resurrect the women's Tour de France, which was held between 1984 and 2009 before sponsorship problems contributed to the event's demise.
However, it was recently announced that from next year the Tour of Britain would have a five-day international women's race, a first step towards a full women's version.