End to End 2013: 1,700 to contest mountain bike race
Last updated on .From the section Cycling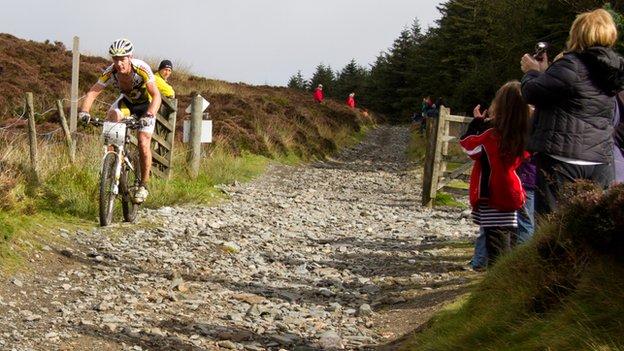 This year's End to End mountain bike race in the Isle of Man will have the largest field in the event's 17-year history, organisers have confirmed.
According to event organiser Steve Honeybone, 1,700 cyclists will begin the 45 mile (75km) challenge on Sunday.
He said: "We've got around 1,000 from the island and the rest from all over the world. It has grown into a truly international event."
Last year around 1,500 cyclists started the race with 959 completing it.
Manx cyclist Elliot Baxter won in what he described as "brutal conditions" in three hours 18 minutes and five seconds - eight minutes ahead of four-time champion and former Olympian Nick Craig.
Mona Petre was the leading lady in a time of four hours 14 minutes and 37 seconds.
Honeybone continued: "We've got competitors coming from the UK, Ireland, Scandinavia, Israel and Australia alongside a strong Manx contingent."
Organisers have made slight changes to the course from 2012, including a new all-weather section through Aarasey Plantation.
Course designer Julian Corlett said: "It is bone dry at the moment and we've made a few changes.
"It should be a bit shorter but there are a few technical sections thrown in as well."
Signing on for the event must be done in person at the Noble's Park Pavilion Community Room in Douglas between 1700 and 2000 BST on Friday or Saturday from 1400 and 2000 BST.
The annual event was first held in 1996 when a group of friends cycled across the island.
Riders have to tackle a variety of terrain during the event and climb more than 1,500m, as they ride from the Point of Ayre in the north of the island to Cregneash in the south.