Bradley Wiggins puts on weight for World Championships bid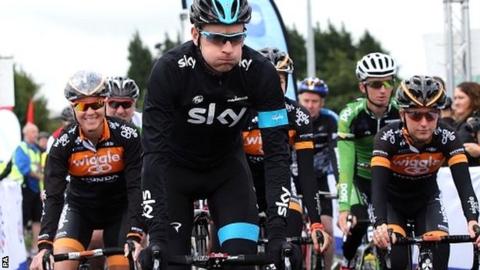 Olympic champion Sir Bradley Wiggins believes gaining a stone in weight will improve his chances in next month's World Championships in Florence.
The 33-year-old, who missed the Tour de France with a knee injury, made an impressive return with victory in the 37km time trial at the Tour of Poland.
"Carrying extra weight is hard but once you get into the time trial - and I won by a minute - it pays off," he said.
Wiggins is competing in the 56.8km time trial in Tuscany on 25 September.
Following his incredible 2012 - when he became the first British rider to win the Tour, won the Olympic time trial, was named the BBC Sports Personality of the Year and received a knighthood - Wiggins has been disrupted by illness and injury.
He was forced to withdraw from the Giro d'Italia in May this year because of a chest infection and then chose not to defend his Tour de France crown because of injury concerns.
"In hindsight, thinking about where I am now, it was the best thing not going to the Tour.
"I had injury problems and there came a point when I had to address that. I couldn't keep burying my head in the sand. I would have hated to have gone to the Tour and pull out for the same reasons, taking the spot from somebody else. It had come to a point when I said enough is enough."
Asked about compatriot and Team Sky team-mate Chris Froome's triumph in this year's race, he said: "Going in he was undoubtedly the favourite. Having seen what he'd been doing leading up to the Tour, it was just a case of doing what he'd been doing all year. And he did that, it was incredible.
"The team showed that they didn't really need me. They did the job.
"Even if I'd been fit this year, I probably wouldn't have been selected. It's just a case of doing the best you can and they pick the team according to the demands of the event.
"I think he's earned the right to lead the team again next year and do it all again."
Looking ahead to the World Championships, Wiggins, who won silver in 2011, said: "It's what I've been training for since the Giro. It's been a complete contrast because training for time-trialling was always a bit of a compromise because I had to be so light.
"But now we've gone completely the other way, it's been nice actually. My climbing is going to be affected massively. By the time we get to the Worlds, I'm going to be seven or eight kilos heavier than when I won the Tour."