Pat McQuaid: UCI president fights on despite losing Swiss support
Last updated on .From the section Cycling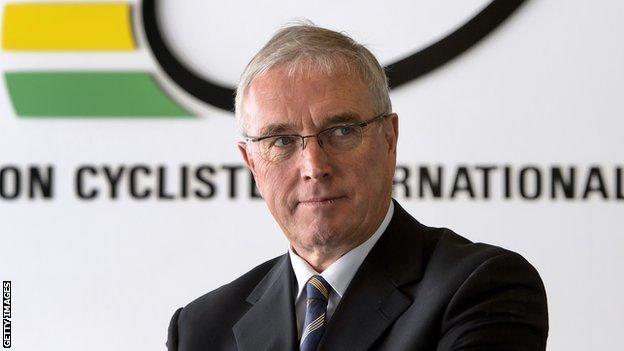 Pat McQuaid will bid for a third term as president of the International Cycling Union (UCI) despite Swiss Cycling withdrawing its support.
McQuaid, who is backed by Thailand and Morocco, now needs the UCI to change its rules to allow candidates to stand with the nomination of two federations.
He said: "I'm standing as a candidate for re-election. That will not change."
British Cycling president Brian Cookson wants to succeed McQuaid.
But in a statement McQuaid said: "I would remind Brian Cookson and his campaign supporters that the UCI congress will ultimately decide who should lead the UCI for the next four years.
"Federations all over the world want me to stand for re-election. I am calling on Brian Cookson and his campaign supporters to accept that and to put an end to their concerted attempts to refuse the congress a choice between two candidates."
The proposed amendment to the UCI constitution could face a legal challenge, but the governing body said legal opinion indicated the amendment was valid and would be incorporated.
Article 51.1 presently states that "the candidates for the presidency shall be nominated by the federation of the candidate".
The suggested new wording reads that candidates should be nominated by their federation or "two federations other than the federation of the candidate".
The UCI's lawyers thus argue that despite losing the backing of the Irish and Swiss federations, McQuaid's nomination is valid.
Cookson said in a statement: "It leaves Mr McQuaid in a very difficult position, particularly when viewed alongside his failure to receive a nomination from his own national federation as required under the constitution of the UCI.
"It also places further question marks against his other 'nominations' whose validity is in serious doubt and remain a matter of genuine concern to many in the cycling world.
"No attempts at manipulation and legal bluster can take away the doubts and questions."
McQuaid's nomination was scheduled to come before an arbitration board in Zurich on Thursday but that has now been cancelled.