Cycling could face uncertain Olympic future - Pat McQuaid

By Richard Conway
BBC Sport
Last updated on .From the section Cycling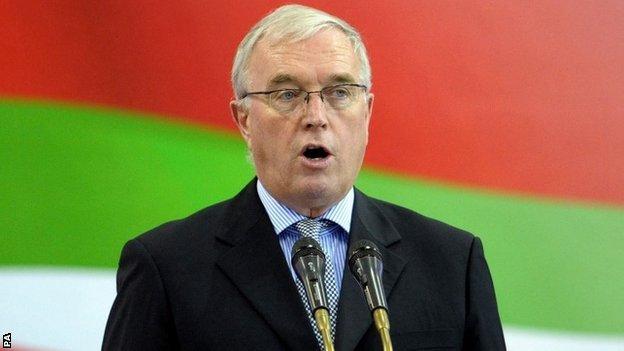 UCI President Pat McQuaid says that cycling could face an uncertain Olympic future unless he is re-elected as head of the governing body later this month.
McQuaid, a member of the International Olympic Committee, says the sport would lose influence in the Olympic movement if he was deposed.
The Irishman faces Brian Cookson for the presidency later this month.
"It's a stark message but it is the reality. It's not scaremongering," he told BBC Sport.
"The IOC have already stated that when Rio 2016 is over, there is going to be a complete review of all events, of all disciplines, of all quotas.
"When the reviews are being done, if you haven't got a voice at the table, you could be in a difficult situation because there's a lot of pressure and influence is coming from other sports that want to be in the Olympic Games."
The election takes place on 27 September in Florence, in the middle of the sport's road world championships with McQuaid seeking a third term of office.
But after the country of his birth Ireland and Switzerland, where he resides now, failed to back him as "home" federations, However, he insists that the move is not against the spirit of the rules.
"What happened in Ireland and Switzerland was against the spirit of democracy," McQuaid insisted.
"If I can, within the rules, find a means to get nominated then why shouldn't I? What they are doing is completely against all forms of democracy to get a candidate eliminated.
"The Congress wants an election and at the end of the day there should be an election.
"If I'm beaten in the election, fair and square, nothing will drift on after the election. I'll walk away and say congratulations and that's that. I would hope my opponent would do the same."